For decades, the only way to reach certain areas of the North Carolina coast was by a ferry or private boat. Today, many residents still rely on the NCDOT ferry system to get to and from their homes in some of the more remote areas of NC. Still, others enjoy the benefits of a weekend ferry excursion to travel to new destinations. 
When you want to experience the excitement of visiting remote locations along the North Carolina coast with a unique system of transport, there's plenty of adventure calling your name. We've planned a long weekend trip that utilizes the NC ferry system and takes travelers to beautiful, unique destinations. Follow the plan below to have a perfect coastal weekend yourself! 
Day One: Mini Weekend Ferry Excursions in Beaufort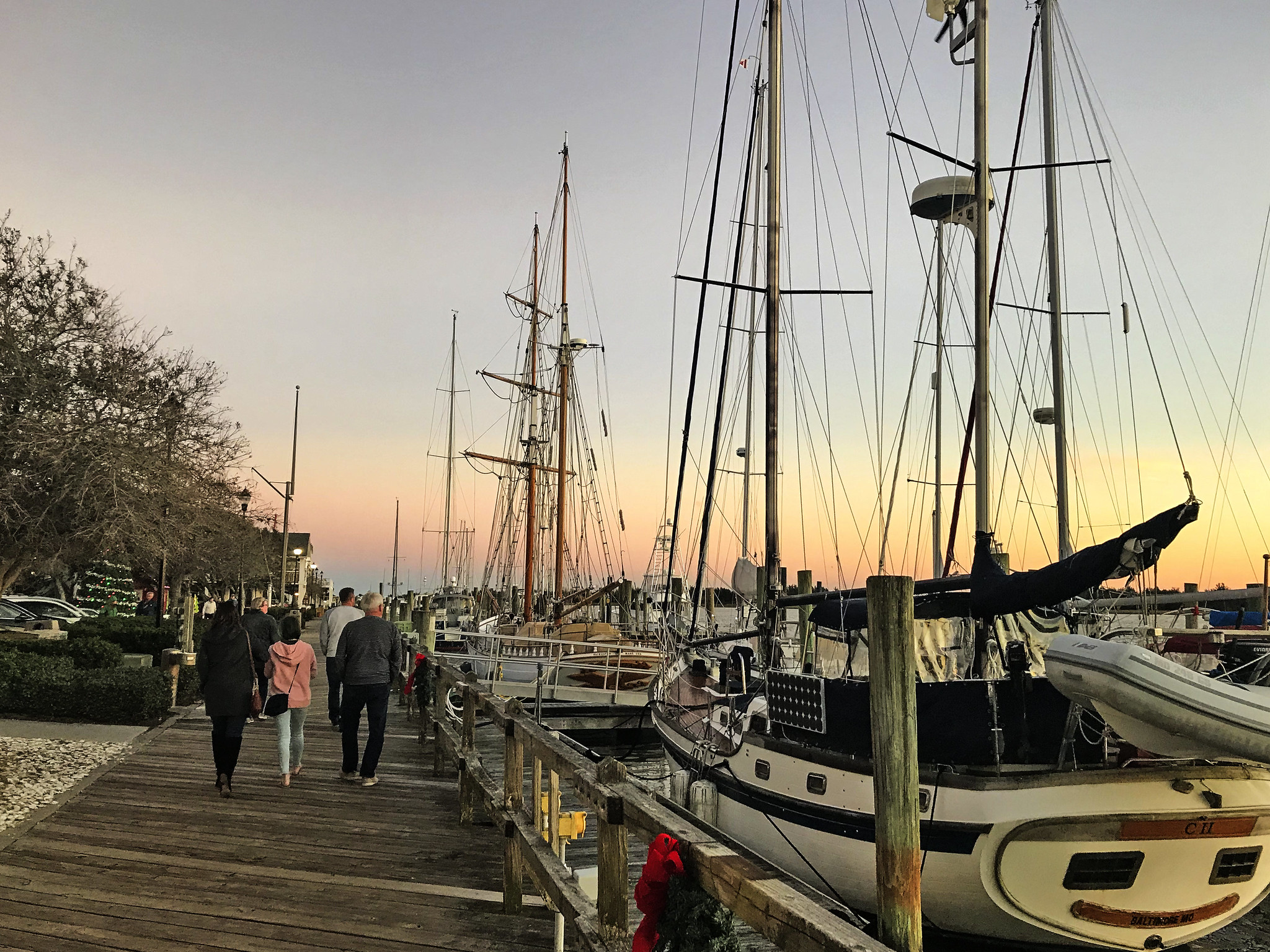 Start your long weekend in Beaufort, North Carolina. The tiny town of Beaufort is a beautiful gem along the Crystal Coast. While it's fantastic to explore Beaufort itself, this stop will be about dipping your toe into the ferry theme of the weekend. 
Off the coast of Beaufort, there's a small series of islands known as the Rachel Carson Reserve. The three islands (Carrot Island, Bird Shoal, and Sand Dollar Island) offer the ideal serene getaway. The pristine beaches provide a hidden getaway for a day of relaxation, while at Sand Dollar Island shell hunters can collect buckets of sand dollars. Plus, the islands have many nature trails that are well worth exploring. Along the trails, you'll find all kinds of wildlife ranging from feral horses and gray foxes to sea turtles and river otters. 
As these islands are so remote, the only way to reach them is by private boat charter or by taking a ferry. Though there are no official NCDOT ferries that travel to the Rachel Carson reserve, there are local weekend ferry excursion services. Islander Ferry Adventures is open year-round for charters to the islands. Dogs are welcome and guests are able to bring chairs, umbrellas, and all of their beach day necessities on board. Pricing ranges from $10 – $15 for adults and $5 – $8 for children 11 and under.  
Day Two: Ferry from Cedar Island to Ocracoke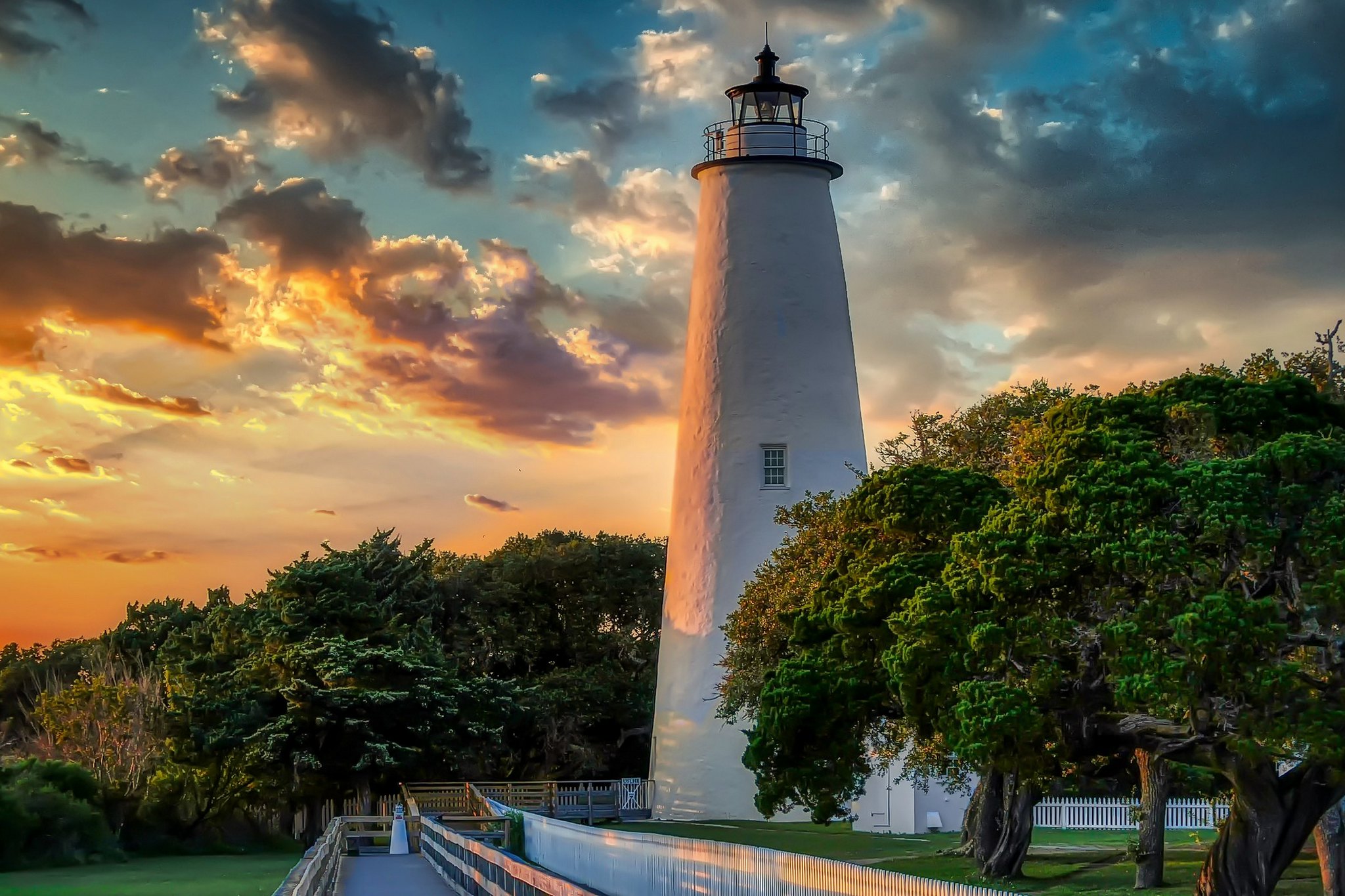 Next up on your weekend ferry excursion, you'll board your first official NCDOT ferry. Jump in your car and take the scenic 45-minute drive from Beaufort to Cedar Island. Here, you'll hop aboard a ferry to Ocracoke. We recommend booking your ferry tickets in advance. We'd also recommend taking the ferry journey in the evening. There's nothing quite like being on the water during sunset! The ferry trip from Cedar Island to Ocracoke is two hours and 40 minutes. 
Ocracoke is a small island but is full of fun things to do and see. 16 miles of pristine beaches are available if you're simply looking for another relaxing beach day. Rent a bike and cruise the coast, stroll along the Hammock Hills Nature Trail, go on a hunt at some of North Carolina's most popular shelling beaches, or try to spot the Ocracoke ponies (similar to the wild horses of Corolla).  
If you want something a bit more structured for your weekend ferry excursion, we'd recommend you pay a visit to the Ocracoke Lighthouse. This historic lighthouse is one of the two oldest lighthouses still in service in the US today. The Ocracoke Light was built in 1823 by Massachusetts architect Noah Porter. As it stands today, the lighthouse's beam can be seen from 14 miles. It stands 75 feet tall. Guests are not allowed to climb the lighthouse, but you're welcome to take photos from the outside and tour the base during the summer months.  
Day Three: Board Your Final Ferry to Swan Quarter
On day three of your weekend ferry excursion, you'll head to the ferry station for your final ferry ride of the trip. This time, you'll be riding the ferry from Ocracoke to Swan Quarter. This will be a longer ferry ride, lasting around 2.25 hours. It's also one of the most serene ferry trips in NC. It's highly recommended to pre-book your ferry ride to Swan Quarter as the ferry only runs this route a few times each day and can easily fill up. 
Swan Quarter is a sleepy, tiny town back on the mainland of North Carolina. Take a bit of time once you disembark the ferry to stroll along the streets and observe the quaint lifestyle of the locals. 
Then, we recommend you drive over to Lake Mattamuskeet. This park and wildlife refuge holds the largest natural lake in North Carolina. Lake Mattamuskeet is only two or three feet deep in most parts, but it runs 18 miles long and 7 miles wide.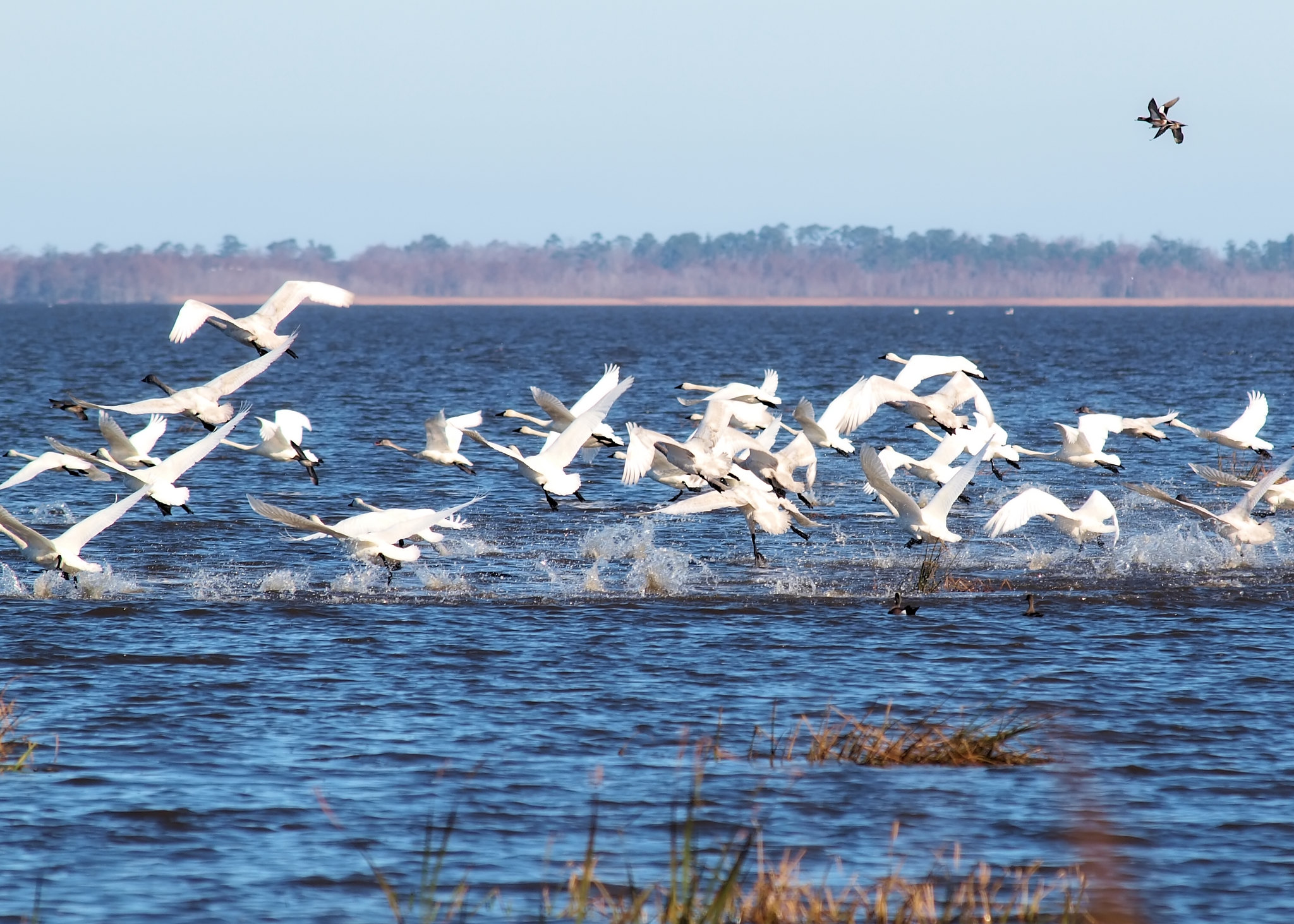 A flock of swans takes flight at Lake Mattamuskeet.
If you are embarking on your weekend ferry excursion during fishing season (March 1 to November 1), you can fish for bass and catfish or even blue crab. Or, during the fall and winter months, you'll be in for a special experience. As the temperatures drop, huge concentrations of geese, swans, and ducks can be spotted on the water. These birds migrate through the area and swarm to Lake Mattamuskeet each year. It's a truly spectacular sight. Guests can also enjoy hiking, biking, and wildlife spotting year-round. 
If you're up for a drive (a little over an hour), you could also head to the North Carolina Aquarium on Roanoke Island. 
About the North Carolina Ferry System
The NC Ferry System has 21 ferries running on seven routes, connecting the mainland to more remote coastal areas. For decades, the ferries have been transporting passengers from the mainland to various parts of the Outer Banks. A few NCDOT ferry routes even run inland as cable ferries. 
The official ferry system has been running since the 1920s. With decades of experience under their belt, the NCDOT has the ferry program down to a science. With the seven routes, North Carolina ferries travel a cumulative 1,200 miles daily. Each year, more than two million passengers are transported with the ferries. 
Families use the ferries to travel to areas that are more off-the-beaten-path, but locals from the remote areas also rely on the ferries for their everyday lives. Many use the ferries for transportation to and from school or work. The NC ferries are also responsible for carrying food and other necessities to the remote areas of the Outer Banks.   
Ticket prices range from $1 – $45 depending on the route and the type of service needed (individual passenger, car, motorcycle, etc.). Routes, schedules, and reservations can all be found on the NCDOT website.