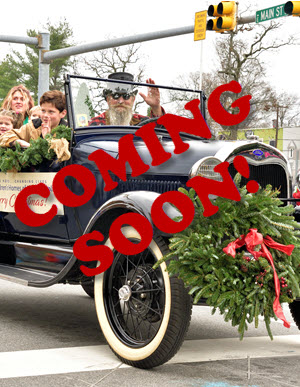 Step Into A Hallmark Movie In Thomasville, NC
Ho, ho, ho! Gather 'round, dear Carolina Travelers, for a holiday 2023 scoop: Santa has sprinkled a touch of Christmas magic all over Thomasville, NC, turning it into a real-life Hallmark Christmas movie. Imagine strolling through charming streets, peering into shop windows where mechanical elves are busy crafting wooden toy.
Hop aboard a trolley, serenaded by live music, while sipping on delicious hot cocoa. This town is a winter wonderland just waiting for you to step into the holiday spirit. If you're looking for a holiday 2023 getaway or new holiday tradition, a stay in Thomasville will prove to be enchanting.
Your clicks make a difference. When you buy something from the links on our site, we may earn an affiliate commission at no additional cost to you.


Click to access the Holiday 2023 Issue
Get Your Santa Sweat On…
Cookies, cakes, pies, and pastries…all this cheerful consumption calls for some lighthearted, competitive play among friends and family members! See who has the most accurate toss at the Reindeer Games in Wilmington, or compete in a Survivor-style holiday 2023 workout — the Holiday Olympics on Oak Island.
Away from the beach, they'll be stomping through the trails of Serre Vineyards in Mt. Airy for the annual Vineyard Stomp Christmas Run. If you're just getting into the sport of pickleball, or have not yet played, sign up for the World Pickleball Tour in North Charleston, SC. All ages are welcome to take part in a sleepover at Atalaya Castle in Huntington Beach State Park, which includes a guided tour of the Atalaya House, scavenger hunt, and s'mores and storytelling at a sunset campfire.
Christmas In A Small Town
What is is about Christmas in a small town? During the holiday season, the spirit of togetherness in these tight-knit communities is even more pronounced. Neighbors look out for one another, business owners go all out with holiday decorations, and homes are adorned with twinkling lights and wreaths. Small towns often have their own unique holiday traditions, from tree lighting ceremonies in Easley, SC to faux snow North Pole Nights in Newberry.
Laugh and cheer on the canine competitors in the annual Blessing of the Hounds in Aiken, followed by the Hoofbeats and Christmas Carols Parade. Small towns like Rock Hill transform the entire community into a ChristmasVille, compete with a sparkling ice skating rink. This holiday 2023 roster of small town Christmas destinations offers a plethora of exciting and endearing traditions for visitors to take part in and recreate year after year.
Rock The Night Away (Can't Miss Holiday 2023 Shows)
The jingle hop has begun at these eight Carolina Christmas shows. From Christmas classics serenaded by Frankie Valli and professional clogging at the Carolina Opry to fireside Christmas with C.S. Lewis in Greensboro and the comedic Every Christmas Story Ever Told performance in Hendersonville, NC and SC are full of entertaining options sure to light up your holiday 2023 calendar. Other acts — like the Vienna Light Orchestra and Trans-Siberian Orchestra's "Ghosts of Christmas Eve" — tour in multiple cities, including Raleigh, Charlotte, Charleston, Winston-Salem, Asheville, and Greenville.
Other Things To Do In The Carolinas Over The Holidays
Whether you're planning on staying for a day, a weekend, or a week, the following places offer an array of activities for those looking to fill their holiday 2023 calendars with fun, family-friendly, or wellness-themed escapes.
Holiday 2023 Day Trips
Our wild holiday rumpus commences in the SC Midlands, where you can stun your family with day trip to a drive-thru safari park in Salley, SC. If you're there over the Thanksgiving holiday weekend, check out the 56th annual Chitlin' Strut, one of the largest festivals in South Carolina!
If you're in search of a warm retreat from the brisk weather, settle into relaxation in Hot Springs, NC, where visitors can immerse themselves in thermal waters on two different properties. Couples in search of an invigorating hike in the area can opt for Lovers Leap Loop, which gifts breathtaking panoramas of the French Broad River and Pisgah National Forest at the peak.
Finally, a sweet finish in Swansboro, NC, where you can stop by Candy Edventure to fill up on virtually any sweet imaginable (in addition to novel-flavored ice cream). The Swansboro Holiday Flotilla is an illuminated boat parade taking place over Thanksgiving weekend — you can guarantee there will be plenty of live music and sweets at this one-of-a-kind event!
Holiday 2023 Events
So many 2023 holiday parties and events, so little time! Make sure these festive fetes are listed on your calendar:
Get instant access to this issue and all of our back issues – Subscribe Today!
Holiday 2023 Destinations
Get ready for a full fall calendar of Destinations! Explore family-friendly events like Boo at the Zoo and the Carolina Renaissance Festival. Try stand-up paddle boarding in Wilkesboro, or a vineyard adventure in Yadkin Valley. These Destinations are guaranteed to make this autumn unforgettable!
---