If you're in search of 2023 holiday destinations in North Carolina and South Carolina, look no further.
As native Carolinians will tell you, the winter climate can be kind of finicky. Depending on the year, you could have a legitimate White Christmas or feel compelled to go to the beach. With that in mind, we've curated a 2023 holiday destinations list with indoor and outdoor options, and all things Christmas-related.
Discover the soulful melodies of the Blue Ridge Music Hall of Fame, where the rich tapestry of Appalachian music comes to life. Explore the nostalgia of a bygone era at the historic Burgaw Train Depot, a window to North Carolina's railroad heritage. Dive into the past at the Kaminski House Museum, where history unfolds in the heart of Georgetown, South Carolina.
For the adventurous at heart, Valdese, NC, offers a playground for winter sports enthusiasts with ATV and off-road vehicle rentals at Fun Cycles. And don't forget to gear up for your escapades at Cook's Sporting Goods in Wilkesboro, NC.
Finally, savor the finer things in life with a winter winery weekend in Duplin County, NC, where the lush vineyards await your palate. This year, let these 2023 holiday destinations be your gateway to unforgettable experiences and cherished memories. See our sponsors and find more things to do in the holiday 2023 issue of Carolina Traveler magazine. Subscribe at CarolinaTraveler.com/subscribe.
Sponsored by…
Keep It Cozy In Wilkesboro
Your clicks make a difference. When you buy something from the links on our site, we may earn an affiliate commission at no additional cost to you.


Wilkesboro, North Carolina, offers a variety of activities and attractions to enjoy for a 2023 holiday destination. Learn about the history of the region by exploring the exhibits at the Wilkes Heritage Museum. It's a great indoor activity, making it an ideal option when the weather is cold. he Blue Ridge Parkway is beautiful year-round, and in winter, you can enjoy scenic drives, photography, and even some light hiking if weather permits. Explore the local shops and boutiques in Wilkesboro for unique gifts, antiques, and winter clothing — many accommodations in the area have fireplaces where you can unwind, read a book, or enjoy a warm beverage.
Blueberrytown Prepares for Christmas
Affectionately known as "Blueberrytown," Burgaw, NC has plenty of fun activities dropping throughout November and December. On November 17, the Hometown Holiday Market will feature upbeat live music, craft vendors, and local food and beverage options at the Historic Burgaw Train Depot. Enjoy the 15th annual Christmas Tree Lighting on November 25 at the Courthouse Square, where an outdoor movie — The Santa Clause — will be playing.
December 1 is the night to compete against your family in Christmas Bingo back at the Train Depot. March in or cheer on the floats and participants of the Burgaw Annual Christmas Parade on December 9. Christmas on the Square takes place December 16, which you can attend after having Breakfast with Santa at the Burgaw Town Center. Burgaw is one 2023 holiday destination you won't want to leave off your list.
Looking for a place to stay? Compare hotel rates and save, with the hotel search engine
Kaminski House Museum
The Kaminski House Museum in Georgetown is getting ready for the 2023 holiday season! After a fresh paint job, the museum will reopen with a bang as a 2023 holiday destination. Join the Kaminski House for a Jazz Lunch on November 5 in honor the its 50th anniversary. From there, the Holiday Designer's Showcase takes place from November 6 to December 30. Local interior designers and home decor specialists will have created stylish festive displays throughout the museum, giving inspiration for your own home holiday decorating.
On December 2, join the Kaminski House Museum in making a 2023 holiday toast at Light Up The Lawn, which features a holiday market during the daytime, an orchestra performance leading up to the lighting ceremony, and impressive light displays. Candlelight tours at the Kaminski House Museum will be offered December 14 from 5:30-7:30 PM, and families won't want to miss Family Night & Holiday Trolley on December 16 from 4-6 PM. Take part in a fun-filled scavenger hunt while eating holiday cookies.
---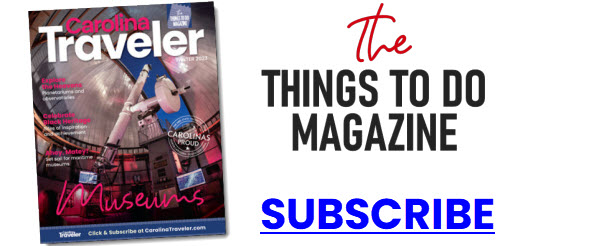 ---
Let's Light Up The Holidays!
On Saturday, November 18, Light Up The Holidays will take place in downtown Thomasville, NC from 5-8 PM. Meander past Santa's Magical Workshop, where you can enjoy mechanical elves working hard to create wooden toys. These motor-powered elves give the best glimpse into what it might be like to see inside of Santa's toy factory. Children can visit with Santa himself from 5:30-8 PM while parents enjoy music and snacks from food trucks.
Take a train ride through town to enjoy the holiday lights, live nativity scenes, and Christmas carolers on your journey. The Lighting of the Christmas Tree will take place at 5:15 PM, rain or shine. Stick around in Thomasville for it is easily one of the top 2023 holiday destinations. There are plenty of family-friendly "Christmas in a small town" events throughout November and December.
Fun Cycles
Winter off-roading in NC typically comes with cooler temperatures, making it more comfortable to be outdoors. You can enjoy the adventure without the intense heat of the summer months. Winter rains and cooler weather help keep the dust levels down on the trails, which means you can have a cleaner and more enjoyable off-roading experience without constantly kicking up dust.
Fun Cycles is a family-run business offering a wide range of motorcycles, ATVs, and other off-road vehicles and riding gear, including helmets, harnesses, tow straps, and radios. Many of the staff are involved in motorcycle racing or off-roading in their free time, so they are knowledgeable and able to offer recommendations depending on what you're looking to do.
You can also find the racing schedules for many local tracks on the Fun Cycles website, including Devils Ridge Motocross, Brushy Mountain Motorsports Park, Daniels Ridge MX, and the North Carolina Hare Scramble Association.
Find hotel deals when you use the hotel search engine
Cook's Sporting Goods Has All Your Gear For Fall Outdoor Adventures
Cook's Sporting Goods is your one-stop shop for all things outdoor adventure. They've got an arsenal of gear that'll fuel your passion for the great outdoors, including a selection of precision rifles and high-performance bows for hunters. Cast your line with unwavering confidence using their extensive selection of fishing gear. They've got sturdy rods, top-of-the-line reels, and enough baits and lures to make any fish's head spin.
Cook's has a range of rugged camping gear, reliable hiking equipment, and protective apparel that's designed to conquer any terrain and weather Mother Nature can throw at you. Their helpful staff are on a mission to outfit you with the finest gear, matched perfectly to the adventurer within you. So, gear up, folks! Get ready to experience the thrill of the hunt, the joy of the catch, and the awe-inspiring beauty of all the outdoor destinations waiting for you this 2023 holiday season.
Toast To A Relaxing Winery Weekend In Duplin County: A Luxurious 2023 Holiday Destination
Any time of year is fine to sip on some wine in Duplin County. Known for being one of the top wine destinations in North Carolina, Duplin County is home to a roster of excellent vineyards. Stop by Gregory Farms & Vineyard for wine slushies, enjoy music in the courtyard at Duplin Winery on Mondays and Saturdays, or participate in games like trivia and music bingo at Huffman Vineyards.
There are plenty of fun activities and things to do in Duplin County that don't involve wine (or pair well with it!) History buffs can visit the Moore's Creek National Battlefield while active outdoor enthusiasts can log in a round of golf at River Landing. The Richard Tellekamp Fossil Find at the Onslow County Museum is a fun 2023 holiday destination for budding anthropologists and archaeologists.
Find these amazing 2023 holiday destinations and adventures in the holiday 2023 issue of Carolina Traveler Magazine. We'll deliver the magazine to your home, and you'll have access to all of the back issues online.
Join the fun! Learn more about subscription options at CarolinaTraveler.com/subscribe.