The Latest From Carolina Traveler
Your clicks make a difference. When you buy something from the links on our site, we may earn an affiliate commission at no additional cost to you.


If Carolina Traveler was on tour with Taylor Swift, we'd be in our shellfish era. October through April is oyster season in the South, so you know what that means…Oyster festivals! Beer festivals! Beer and oyster festivals! In this edition of our weekly newsletter, we're cracking open the details on the SC Oyster Festival and other fun events going on in November, including the Aiken Steeplechase, Carolina Renaissance Festival, and Seagrove Pottery Festival.
For our esteemed VIP subscribers, we have TWO FREE TICKET OFFERS! Keep perusing to savor the details of the oyster-shucking, horse-racing, and holiday-shopping events that await you in the Carolinas. Learn how to join our Carolina Traveler Facebook group and become a subscriber to the Carolina Traveler magazine!
Sharpen Your Oyster Shuckers For The 2023 SC Oyster Season
Here's some fun Tar Heel trivia for oyster season enthusiasts (also known as ostreaphiles): which months are considered good oyster months? What's considered oyster season on the east coast is not necessarily true for other oyster-dense regions of the U.S. You've likely heard that oysters and r months have some special relationship (that's months with a letter r in the name). If that's the case, here are the good oyster months that make up oyster season:
September
October
November
December
January
February
March
April
The SC Lowcountry could also be considered the "Oyster Coast" for its bountiful oyster supply. Many festivals dedicated to the slippery mollusks will take place throughout winter 2024, including:
Claim Your Free Tickets To The Christmas Carousel Holiday Market In Raleigh, NC
You say it every year: This time, I'll be better. I'll be done with Christmas shopping before Christmas Eve…
Now's the chance to make good on that ambitious promise to yourself, but attending Raleigh's ultimate Christmas extravaganza, the unmissable Christmas Carousel Market! Get ready to jingle all the way to the NC State Fairgrounds for a holiday shopping spree featuring over 250 exhibitors. You'll feel like you stepped into a 90,000 sq. ft. winter wonderland of delicious treats, blooming florals, dazzling decor, and more!
Carolina Traveler VIPs can claim their free tickets to the Christmas Carousel Market in Raleigh, NC. Just send an email to Susie, our Ambassador of Fun, and she'll get you into the market!
Discover Cherished Pieces Of North Carolina Pottery
Did you know that more than 80 potters call Seagrove, NC home? The 16th Annual Celebration of Seagrove Potters takes place November 18-19, featuring pottery demonstrations, pottery auctions, and other special pottery exhibitions. Visit the Seagrove pottery festival website to learn more about the vendors who will be present at the celebration.
The NC pottery tradition dates back several hundred years to the late half of the 18th century, when the first immigrant potters arrived to the colonies from England and Germany. What sustained the burgeoning pottery tradition in the 1700s? Why, that good ole NC clay that we learn about in high school geography, of course!
The growth of the railroad system helped fuel the fire of the potters kilns by providing access to new markets of pottery-buyers. The vendors you'll meet at the Celebration of Seagrove Potters represent how the art of pottery has continued to build upon the innovations of its early immigrant potters.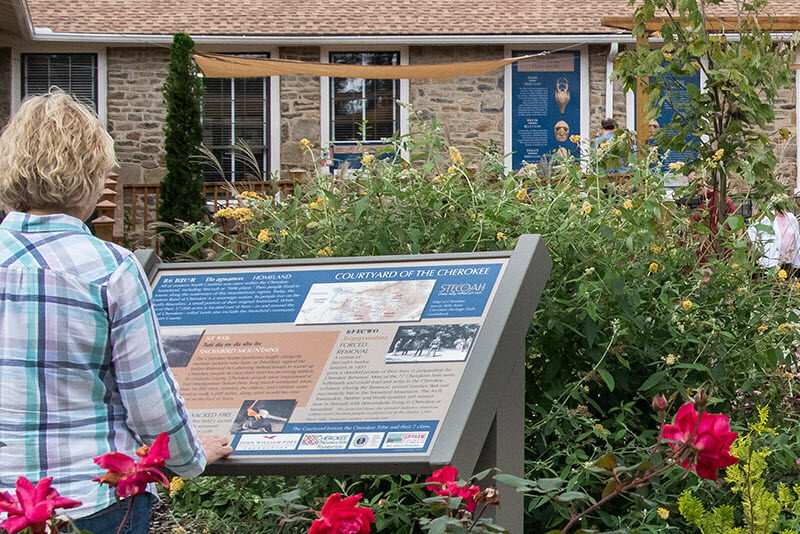 Free Things To Do In NC: The Courtyard Of The Cherokee
Created to educate and bring awareness to the public about the Eastern Band of Cherokee Indians that first inhabited the land of western NC, the Courtyard of the Cherokee features stunning copper sculpture work and informative mask displays. Turn your visit into a day trip with other fun things to do in Cherokee, NC.
Experience The Churchill Downs Of SC
They say those who can't do, teach. Thus, those who can't go to the Kentucky Derby set their sights on the Aiken Steeplechase — South Carolina's version of Churchill Downs.
That's right, it's time to brush up on your horse-racing lingo and fluff out that crumped up derby hat (just kidding, we know you keep it expertly preserved in your hat box). The much-anticipated Aiken Steeplechase 2023 is off to the races on Saturday, November 18. Arrive early for fall tail-gating and bring all of your kids — or at least, the ones who are ten and under. They get in free!
Claim Your Free Tickets To The Final HUZZAH At Carolina Renfest!
Children ages 5-12 receive FREE ADMISSION to the last weekend of the Carolina Renaissance Festival with a canned food donation. Take advantage of your last chance to chomp like a champ on a turkey leg! Carolina Traveler VIPs can claim up to 4 free tickets to the Carolina Renfest (2 adults and 2 children)! If you didn't see the email in your inbox or spam, just send an email to Susie, our Ambassador of Fun, and she'll get you into the festival!
The Holiday Issue Is Coming…
Like St. Nick on Christmas Eve, we're putting the final touches on our 2023 Holiday Issue of Carolina Traveler. Get excited for Carolina small town Christmas features, heart-pumping holiday spectaculars and performances, and holiday-themed events that will have you musing, Only in the Carolinas!
Looking for more information on things in to do in North Carolina and South Carolina? Whether it's the start of oyster season, Mother's Day, or a regular ole' long weekend in autumn, you can visit our Carolina Traveler Facebook page and Carolina Traveler website for all things seasonal in NC and SC.