The Latest From Carolina Traveler
Your clicks make a difference. When you buy something from the links on our site, we may earn an affiliate commission at no additional cost to you.


Uncover the autumnal wonders of NC and SC with us this week! From savoring decadent candied apples at the Autumn Leaves Festival to experiencing the thrills of the State Fair Midway, we've got your fall adventures covered for the upcoming week and beyond. Join the hunt for Sasquatches at the South Carolina Bigfoot Festival or float into the season with an Asheville floating bar crawl.  Learn how to join our Carolina Traveler Facebook group and become a subscriber to the Carolina Traveler magazine!
Embrace The Beauty Of Fall At The Autumn Leaves Festival In Mt. Airy, NC!
Named one of the top 20 events in the Southeast, this year's annual Autumn Leaves Festival runs October 13-15, 2023.
Arts & Crafts Galore: Explore the festival's bustling arts and crafts vendors, where you'll find unique handmade treasures, from pottery to jewelry, perfect for early holiday shopping.
Live Music: Tap your feet to the rhythm of bluegrass, folk, and traditional mountain music. The festival's stages come alive with talented musicians, creating an unforgettable backdrop to your day.
Kids' Zone: Keep the little ones entertained with a dedicated Kids' Zone featuring face painting, pumpkin decorating, and fun games.
Heritage Village: Step back in time as you stroll through the Heritage Village, a historical reenactment that showcases life in the 1800s.
Delicious Eats: Satisfy your taste buds with a variety of festival food vendors offering everything from classic fair treats to local specialties. Don't miss the chance to try some authentic North Carolina flavors.
Scenic Beauty: Nestled in the picturesque foothills of the Blue Ridge Mountains, Mount Airy comes alive with the fiery hues of autumn.
Also Happening This Weekend: The SC Bigfoot Festival
Are you a Bigfoot believer? The 4th annual South Carolina Bigfoot Festival returns to Westminster, SC on Friday, October 13 and Saturday, October 14, 2023. Whether you're a Sasquatch skeptic or convinced that there is an undiscovered species roaming the land, this festival will have something for everybody. Expect live music, cryptid speakers, Bigfoot stories, food vendors, artisans, kids' activities, and even a few Bigfoot themed contests, including kids and adults versions of costume contests and calling contests. Interested in reading more about cryptids in the Carolinas? Check out our expose on Stephen Barcelo, owner of the Cryptozoology & Paranormal Museum in Littleton, NC.
The Fair Is Here!
Did you know the North Carolina State Fair is ranked in the top ten state fairs? Running from October 12-22, 2023, the NC State Fair is organizing a host of new events:
Thursday, October 12 — $8 student admission for NC State students
Sunday, October 15 — Access Ability Day from 9 AM to 1 (rides, games, and vendors will operate without lights or music)
Tuesday, October 17 — Senior Citizens' Day (seniors age 65+ get free admission)
Wednesday, October 18 — Military Appreciation Day (parade at 10 AM)
Thursday, October 19 — Smithfield Hunger Relief Day (bring six cans of food in exchange for free admission)
Attend the South Carolina State Fair from October 11-22, 2023. Returning for its fourth year, the CIRCUS at the Fair is free with fair admission and takes place daily at 2 PM, 4:30 PM, and 7:30 PM showings, which run 40 minutes.
Returning for a fourth year at the South Carolina State Fair, the CIRCUS at the Fair is back and better than ever with fresh and exciting entertainment, familiar and new! Experience the breathtaking talents of aerial artists, acrobats, clowns, magicians, and even a laser illumination  performer!
Embrace A Month Of Halloween Magic & Mystery
Every North Carolina family should bring their kids to Mystery Hill at some point. Located in the NC Mountains between Boone and Blowing Rock, Mystery Hill features three museums with historic artifacts and exhibits from giant bubbles to optical illusions. Not only is Mystery Hill on our list of the best day trips in western North Carolina — you could probably make a weekend out of enjoying different entertainment options there. Check some of them out below:
Natural gravitational anomaly
Bubblerama giant bubble
Hall of Mystery educational tour
Tomahawk Hill axe-throwing
Prospector Hill gem mining
Professor Finnegan's old-time photos
Historic farmyard
Native American artifact museum
Bull-riding challenge
Overflowing mason jar milkshakes at Front Porch Eats
LIMITED TIME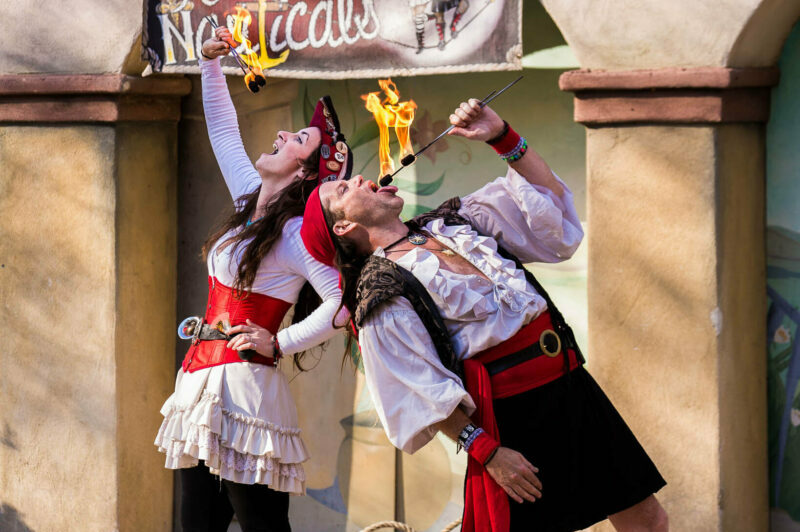 Ren Fest Tickets
Carolina Traveler VIPs — Check your email for instructions on claiming your tickets! While supplies last, we're giving VIPs up to four tickets the the festival (2 adult and 2 child tickets) valued at $104! If you don't see the email in your inbox, check your spam or promotions tab. To get in on all the fun stuff as a Carolina Traveler VIP
,
c
lick 
subscribe
, s
elect the VIP package, c
heck out, and start getting t
ickets to fun stuff!
Floating Bar Crawl? Sign Us Up!
This might be one of the coolest North Carolina things to do in fall 2023. Asheville is easily recognized as one of the top beer destinations in the U.S. While embarking on an Asheville brewery tour is exciting enough on its own, doing it on the water is a totally different experience. Imagine floating down the French Broad River — ice-filled cooler in tow — as you leisurely pull up to Asheville Breweries like New Belgium and Wedge. Book Asheville floating bar crawl tickets.
Boiled To Perfection
Here in the South, we're blessed with an abundance of snacks to consume during sporting events. From oysters and barbeque wings to chilis and dips, you can't say we're not spoiled. What is it about boiled peanuts that feels so right at a fall football game or on a fall road trip? No need to go nuts looking for the best places to get your peanuts in North Carolina — we've got your top five best NC peanuts list right here.