The Latest From Carolina Traveler
Your clicks make a difference. When you buy something from the links on our site, we may earn an affiliate commission at no additional cost to you.


If you ask any native Carolinian what their favorite fall traditions are, you may be surprised to hear some of their answers. Getting lost in a corn maze? Shooting apple cannons at moving targets? Launching from a pumpkin sling shot?
That's right, in NC and SC, merely frolicking through a pumpkin patch isn't enough to satiate our autumnal day trip desires! In this edition of the Carolina Traveler weekly newsletter, we're spilling all the juice…err…tea…on the best U-pick apple farms and apple festivals, a curation of corn maze adventures, intriguing murder mystery dinner and historical pub crawl tours, and other eccentric events in October. Learn how to join our Carolina Traveler Facebook group and become a subscriber to the Carolina Traveler magazine!
Is That An Apple Cannon?
Apple orchards. Apple festivals. Apple cider. Apple cider donuts. Apple slushies. Apple selfies. And yes…even an apple cannon.
October is the season of the apple in North Carolina and South Carolina! Throughout the month, there are myriad opportunities to pick your own Honeycrisp, Pink Lady, and Arkansas Black varieties and attend festivals dedicated to one of the state's favorite fruits. From Grandad's Apples 'N Such in Hendersonville to Windy Hill Orchard & Cidery in York, we're sure you'll want to take a bite out of these autumn apple activities!
Happening This Weekend: The Brushy Mountain Apple Fest
Amble into the heart of North Wilkesboro, where the Brushy Mountain Apple Festival stands as a colossal gathering, a pulsating mosaic of arts, crafts, and gastronomic delights. This Southeastern spectacle, drawing over 160,000 revelers annually, transforms the downtown streets of Wilkesboro into a vibrant bazaar with 425 vendors flaunting their wares alongside 100 tempting food stands.
Amidst the sensory whirlwind, four eclectic music stages beckon, showcasing live performances that range from the rhythmic cadence of cloggers to the lively antics of jump ropers and square dancers. On October 7, 832 Main Street becomes the epicenter, a convergence of local growers spotlighting their finest apple-picking selections. An immersion into the soulful symphony of culture, craft, and crisp autumn flavors awaits!
Nothing Corny To See Here…
Tap into the Carolina corn maze craze at these seven locations. In addition to labyrinthian leisure, these farms that have plenty of other attractions to keep satisfy a full fall day trip getaway. So celebrate this year's harvest season by stopping by some of these amazing Carolina corn maze destinations.
A Roaring Good Time at Eudora Wildlife Safari Park
Embark on an unforgettable October adventure in North Carolina at the Fall Festival hosted by Eudora Wildlife Safari Park, igniting excitement every Friday through Sunday from September 29 to November 5. Immerse yourself in the thrill of a captivating safari drive-thru, where lemurs and camels become your fascinating companions. Beyond the wild encounters, channel your creativity by painting pumpkins, launch into exhilaration with a pumpkin sling shot, navigate the twists of a corn maze, and revel in up-close encounters with majestic animals through pony rides. The festival's early weeks dazzle with the Lance Gilford Magic Show, while the grand finale unveils the mesmerizing Disc Connected K9 Dog Frisbee Show. Unleash your sense of wonder in this dynamic, weekend-long celebration!
LIMITED TIME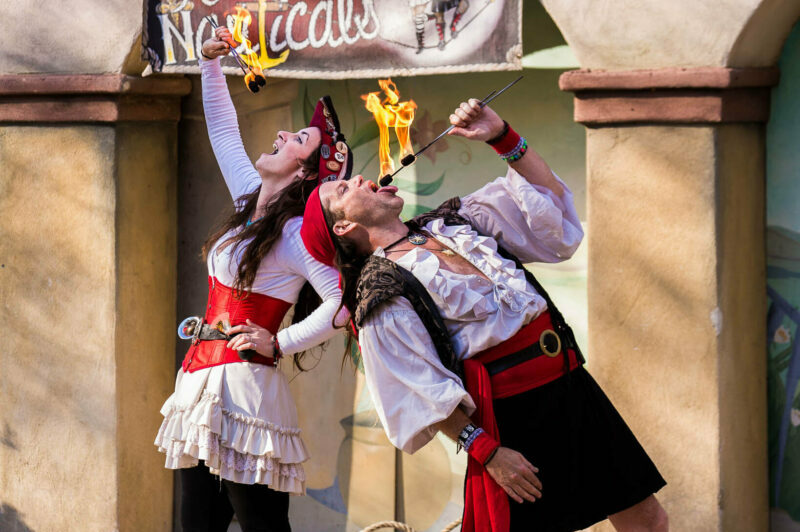 Ren Fest Tickets
Carolina Traveler VIPs — Check your email for instructions on claiming your tickets! While supplies last, we're giving VIPs up to four tickets the the festival (2 adult and 2 child tickets) valued at $104! If you don't see the email in your inbox, check your spam or promotions tab. To get in on all the fun stuff as a Carolina Traveler VIP
,
c
lick 
subscribe
, s
elect the VIP package, c
heck out, and start getting t
ickets to fun stuff!
Murder, But Make It Educational
October — the month of off-the-wall oddities and ominous obscurities. But who says you can't have a little fun with the local specters? For our fervent true crime enthusiasts, we're highlighting a mobster-themed murder mystery dinner in Myrtle Beach, where guests will enter through a speak-easy, enjoy 1930s music, and have a "killer good time" trying to guess who is responsible for a heinous murder! Book Myrtle Beach murder mystery dinner.
Looking for less bloody ooze, more hoppy brews? Embark upon a historical pub crawl through some of the most storied buildings, dungeons, and secret alleyways on this two-hour walking tour. Guests will have the opportunity to purchase beverages and mixed drinks as they learn about the history of the Prohibition-era history of the Holy City. Book Charleston historical pub crawl.
A Message from the Ghost of Christmas Future…
It won't be long until we announce our next giveaway to Carolina Traveler VIP subscribers! All we'll say for now is, start getting your holiday shopping list ready. Winners will sure to have a dickens of a good time wassailing about this marketplace and the surrounding area!
Let Your Little Ones Unleash Their Wild Side!
Carolina travelers in NC and SC have the chance to experience eerie animal encounters at the North Carolina Zoo in Asheboro and the Riverbanks Zoo in Columbia.
Boo at the NC Zoo is taking place October 21 & 22 and October 28 & 29 and is ideal for youth ages 4-12. Enter costume contests, go trick-or-treating, and take part in festive games. Winners in each of the following costume contest categories will be declared at 12 PM and 3 PM daily: 0-5 years, 6-12 years, 13 and up, themed family or group participants.
Boo at the Riverbanks Zoo is sure to delight South Carolina families with 11 nights of fun! From October 20-30, visitors can stand in awe at Ray's Moonlight Magic show, summon spirits on the dance floor with the Eeky Freaky DJ, take a spin on the haunted carousel, and hop aboard the Spooky Spots and Stripes Railroad. Children ages 12 and under are encouraged to wear costumes.