While many seek out Franklin for the the slow pace and relaxing mountain town vibe, we found plenty of fun things to do in Franklin, NC, for the whole family! 
Gem Mining
Known as the "Gem Capital of the World", there are more than 10 local mines scattered around Franklin. Adults and children will both find delight in uncovering something with a little sparkle. 
The gem mining culture in Franklin has a longstanding history. The area first gained popularity for miners in 1870 as they discovered the plethora of gems in the corundum family (such as rubies and sapphires) hidden in the Cowee Valley. Although commercial mining became less popular as man-made gems became more popular, the resources in Franklin were never depleted. 
Today, visitors love the thrill of getting their hands a little dirty as they search for the jackpot of real sapphires and rubies in the local mines. 
When planning your trip, bear in mind these tips for gem mining: 
Plan to get a little dirty. Old clothes are recommended so that you can focus on finding the motherload without worrying about your outfit. 

During the cooler months, layers and rubbers gloves are recommended so that you can keep warm and dry.

Bring plastic baggies to stash your loot. 

Most of Franklin's gem mines operate from early Spring through late Fall. Be sure to plan your visit ahead! 
There are plenty of gem mining options in Franklin ranging from all-natural mines to enriched mines (where gemstones are added in). Top recommended locations include: 

Rose Creek Mine
115 Terrace Ridge Dr. 
Rose Creek Mine has been in operation since 1952 and is one of the most family-friendly mines in the area. There's plenty of prizes to be found here including Ruby, Sapphire, Moonstone, Rose Quartz, Amethyst, and Garnet. 
Sheffield Mine
385 Sheffield Farms Rd. 
If you're looking for native mining of rubies and sapphires, Sheffield Mine is the place for you! This is the real deal for incredible gems. In fact, Sheffield was once owned by Tiffany's before becoming a public attraction. 
Mason's Ruby & Sapphire Mine
6961 Upper Burningtown Rd. 
One of the original native mines, Mason's touts incredible customer service and a fantastic experience for all. In addition to offering the native mining they've been providing since the 1950's, Mason's also offers enriched buckets prepared for those who would prefer it. 
Uncover Franklin History
Within the town of Franklin, there are three popular museums that are all within close walking distance. Once you've tried your hand at mining for gems, take a look into the history of Macon County, gem mining, and the Scottish heritage of the area. 
We recommend planning some time to visit the following museums: 
Macon County Historical Museum
36 West Main St. 
This museum takes visitors on a journey through the mountain town's history. Exhibits range from the earliest known civilization of the Franklin area through to the mid-Twentieth Century. Much of the museum covers the Cherokee history of Macon County.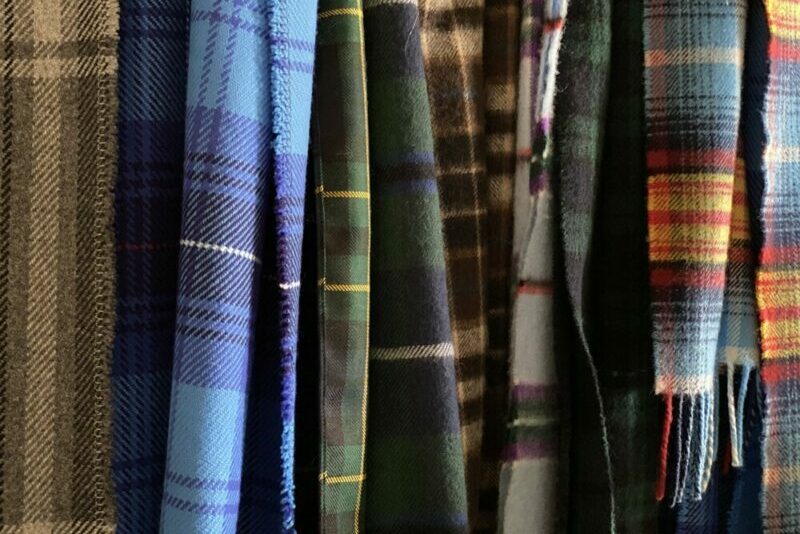 Scottish Tartans Museum
86 East Main St. 
In addition to their Cherokee heritage, Franklin has a rich history of Scottish roots. This museum is the only Scottish Tartan museum of its kind in the US and is directly related to the Scottish Tartans Society in Keith, Scotland. 
Gem & Mineral Museum of Franklin
25 Phillips St. 
Whether you intend to get your hands on some gems yourself or not, a trip to the Gem Capital of the World without peeking into the mining history would be amiss. This museum, located in the old Macon County Jail of 1850, showcases incredible gems and uncovers the history of gem mining in the area. Admission is free.
Chase Waterfalls Around Franklin 
When it's a connection with nature you're seeking, there are numerous gorgeous hikes and waterfalls in the surrounding area. Hop on the Mountain Waters Scenic Byway traveling Southeast from the town and you'll catch many waterfalls along the Cullasaja River. 
Or, any of the below waterfalls provide natural beauty and are within a short driving distance from Franklin. Remember to bring a camera and wear your hiking boots as paths can become slippery. 
Glen Falls
This waterfall is about 3 miles south of Franklin along NC 106 from Highlands. Keep an eye out for the Glen Falls marker after turning left on US Forest Service Rd. Once you park, there's a 1-mile hike along a trail to the falls. This hike is steep and best recommended for those who are comfortable with a rougher incline. 
Looking Glass Falls
Head to nearby Brevard, NC and take highway 276. Once you pass the Ranger Station, Looking Glass Falls is about 4 miles north. There is a marked parking area for ease of access. From the parking lot, it's a quick walk to the falls. 
Rufus Morgan Falls
Hop on US 64 for approximately 3 miles. Turn right towards Wayah Bald. Next, take the first left onto Waya Road and continue for 6.5 miles. Turn left at Forest Service Road 388 and the falls will be on your right in about 2 miles. 
Spend the Day Antiquing — 
One Of The Most Fun Things To Do In Franklin NC!
Shopping in Franklin, NC is ideal for antique lovers. The streets of Franklin are lined with adorable stores offering gorgeous heirlooms and unique finds. A stroll around town will reveal plenty of antique shops, but the most popular spot for antiquing is the Whistle Stop Depot.  
The Whistle Stop Depot is the largest antique mall in North Carolina. The depot houses specialty shops for home decor, jewelry, and clothes. There's also a general store where you can grab a quick snack or maybe some candy for the little ones. 
With over 100 antique dealers and 23,200 square feet, there's sure to be a special item that will catch your eye! 
Where to Eat in Franklin, NC 
There are plenty of tasty options for meals while staying in Franklin for the weekend. 
Two local brewpubs, Lazy Hiker Brewing and Currahee Brewing Co. offer great beers for the adults but are also family-friendly and comfortable for the younger ones. 
Fat Buddies Ribs & BBQ will fulfill your NC BBQ craving with platters of pulled pork or brisket. The beloved Caffe Rel, located in an old gas station, offers gourmet specialties from the perspective of a French neighborhood cafe. If it's good ole Southern-style diner food you're after, Ms. Lois' Restaurant is the way to go (try the breakfast!). 
Where to Stay in Franklin, NC 
Franklin's choices for overnight stays range from country inns and quaint bed & breakfasts to national hotel chains. For a more local feel, book a night at the Oak Hill Country Inn Bed and Breakfast or The Franklin Terrace Bed and Breakfast. If you prefer a weekend of camping, check out the Rose Creek Campground & Cabins. 
Whether you're an adventure seeker, a beer drinker, or an antique lover, Franklin has something for you. A visit in the fall will provide beautiful foliage while a summer trip offers views of gorgeous wildflowers. Don't miss out on this Western North Carolina gem (pun intended).