Your clicks make a difference. When you buy something from the links on our site, we may earn an affiliate commission at no additional cost to you.


November – a time for buying pumpkin spice-scented candles in bulk, eating carbohydrates in all their lovely forms, raking the leaves into jumpworthy piles, and getting ready for everyone's favorite holiday…Christmas, of course!
Christmas happens to be coming early this year for our Carolina Traveler VIP subscribers with a deal that would have Ebenezer Scrooge grinning from ear to ear: free tickets to the best holiday marketplaces in your state! 
Check your email for complimentary tickets to the Dickens Christmas Show and Festivals in Myrtle Beach, SC, and the Christmas Carousel Holiday Gift Market in Raleigh, NC. Keep reading to learn more about these Carolina holiday bucket list experiences!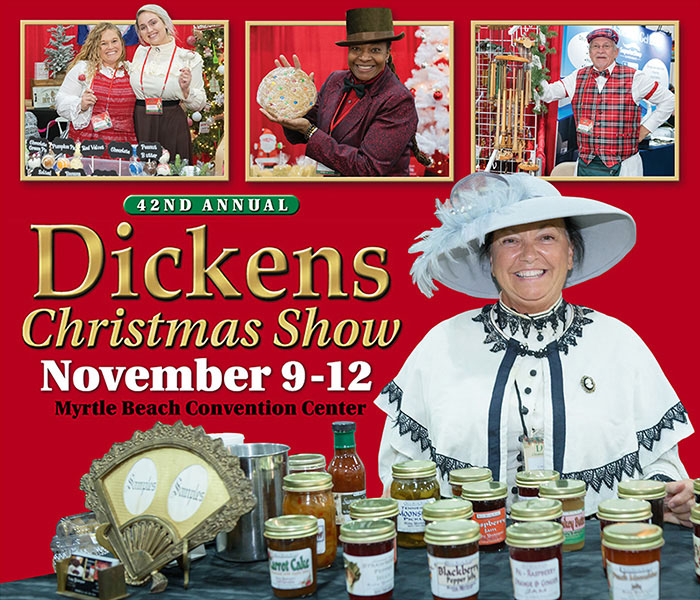 The Dickens Christmas Show And Festivals
Exchanging gifts and Christmas cards, decorating trees and windows, hosting parties and feasts – much of today's beloved holiday merrymaking traces its roots to Victorian England, when the essence of Christmas became centered on family and togetherness. 
When you attend the Dickens Christmas Show And Festivals in Myrtle Beach – regarded as one of the best events in the Southeast U.S. – you and your family can wassail into Victorian Era England, where such traditions and tidings are just starting to take shape and gain popularity.
The Victorian Holiday Marketplace is the main event of the Dickens Christmas Show and Festivals, transforming the 100,000+ square foot Myrtle Beach Convention Center into a Victorian Christmas snow globe. Over 350 vendors clad in dapper waistcoats, top hats, bonnets, and petticoats will be peddling holiday gifts and decor, children's toys and crafts, gourmet confections and beverages, and more. 
As you float from aisle to aisle, uplifted by the arrangements of strolling Victorian musicians, you'll find everything you need to deck your halls and hearth. Endearing knick knacks and handmade gifts await the selective gift-giver in search of the perfect present for a loved one. Punctuate your time in the holiday marketplace with personalized tea leaf readings, Punch & Judy Shows, and even a sit-down with Santa.
The spirit of generosity that threads through Charles Dickens' literary works shines through the elaborate festival exhibitions of uniquely decorated trees, tables, stockings, wreaths, and more holiday decor. All displayed items in the festival section of the holiday marketplace are on sale as part of a silent auction, and the proceeds benefit a designated philanthropy that alternates annually. To add to the excitement, each festival item is accompanied by a complementary show ticket, restaurant voucher, gift card, or other prize! 
The 40-year-old Festival of Trees inspires the adornment of 50 pines distinguished by style, shape, or color. Whether you bid on a Disney-themed, Carolina Panthers-themed tree, or Santa-themed tree, all proceeds go directly to the Silver Lining Arts Foundation, a nonprofit dedicated to providing youth enrichment opportunities in the fine and performing arts. 
No matter your reason for the season, the Dickens Christmas Show And Festivals is a novel way to celebrate the spirit of gift-giving and family togetherness in Victorian fashion. Book your tickets online to experience this holiday marketplace — a true shopper's paradise — from November 9-12.

The Christmas Carousel Holiday Gift Market
Holiday shoppers in the Triangle area have circled the Christmas Carousel Holiday Gift Market on their calendars for 36 years. On the weekend following the Thanksgiving holiday, more than 250 exhibitors will convene to showcase floral arrangements, artisan gifts, handmade decorations, and holiday flavors. If you can't find at least a stocking stuffer for each person on your gift list at the largest holiday marketplace in the state, we reckon you'll have to try the North Pole itself!
And when we say there's something for everybody at the Christmas Carousel Holiday Gift Market, we mean it. Pick up gourmet dog treats from 3 Pups Bakery for your family pet. Select meticulously carved products by 4 Pelicans Woodworking for your picky pops. Jewelers, wreath-makers, and local authors and artists will surely please recipients with a soft spot for custom creations.
Attend this merry holiday marketplace from November 24-26, 2023, at the Jim Graham Building of the NC State Fairgrounds. Tickets range from $5 to $10, while children under five get in free. Your ticket is good for three days with a return pass.
What's Better Than A Day Of Holiday Marketplaces? An Entire Weekend!
We wouldn't blame you for turning either holiday marketplace visit into a three-day weekend. If you're headed to the Grand Strand, check out our Myrtle Beach recommendations:
For those headed to the Triangle, we've got you covered with other activities to complement your holiday marketplace extravaganza: