Whether you want to take a relaxing trip, visit an adventure-filled tourist town, or spend a few days on a remote camping trip along the coast, we've got you covered! Check out our top 5 pet-friendly SC beach recommendations below. 
Myrtle Beach 
Myrtle Beach is a buzzing resort town full of golf courses, arcades, and shopping opportunities. It's an energetic beach town that attracts 19 million vacationers yearly. Fortunately for our furry friends, they don't have to be left out of the Myrtle Beach fun! 
The Myrtle Beach dog rules aren't numerous, but there are a few that you must follow. From the day after Labor Day to April 30, dogs are allowed on the beach, boardwalk, and oceanfront promenade any time of day. However, they must be on a leash that is a maximum of seven feet long. During the busy season, there are more restrictions for our canine friends. From May 1 to Labor Day, leashed dogs can visit the beach before 10:00 a.m. and after 5:00 p.m. Alternatively, visitors can take their canine friends to the Myrtle Beach Oceanfront Promenade and Boardwalk from 5:00 a.m.-10:00 a.m. 
When your doggo wants to run free and escape the limits of his or her leash, Myrtle Beach offers two incredible dog parks. These parks have separate sections for large and small dogs as well as drinking fountains and plenty of space for running wild. Barc Parc North is located at 5000 Claire Chapin Epps Dr. while Barc Parc South can be found at 676 Mallard Lake Dr. 
Vereen Memorial Gardens is a quick 15-minute drive from North Myrtle Beach. Here, you'll find more than 115 acres of marshland and forest along the Intracoastal Waterway. Throughout the Gardens there are 3 miles of boardwalk and trails that are perfect for exploring with your dog.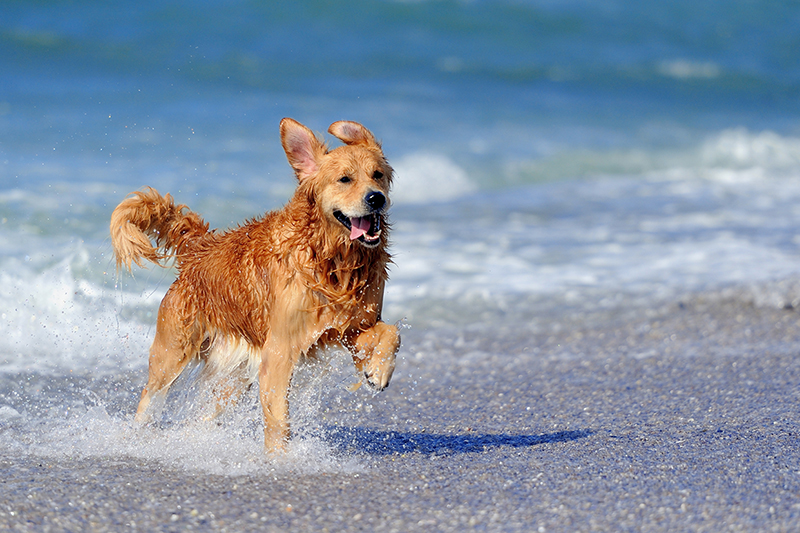 Hilton Head Island 
Hilton Head Island is a stunning getaway spot located directly north of Savannah and the Georgia state line. This gem of a vacation spot offers tasty restaurants, pristine golf courses, and stunning beaches. In fact, Hilton Head is regularly named a top U.S. destination by sources such as Travel + Leisure and Condé Nast.
And, we've got pawesome news: Dogs can enjoy beautiful Hilton Head, too. The beaches of Hilton Head allow dogs with certain exceptions. Follow these guidelines: 
Dogs are not permitted on beaches between 10:00 a.m. and 5:00 p.m. the Friday before Memorial Day through Labor Day. 

Dogs must be on a leash at Fish Haul Beach Park at all times.

Dogs must be on a leash at all other beach parks between 10:00 a.m. and 5:00 p.m. April 1 through the Thursday before Memorial Day, as well as the Tuesday after Labor Day through September 30.
Two of the most popular Hilton Head beaches to take your dog are Alder Lane Beach and Burkes Beach. 
Roaming the sandy shore isn't the only thing you can do with your furry family members while in Hilton Head. Head to Chaplin Park and pay a visit to their Best Friends Dog Park, where you won't need to keep your pup on a leash.     
You can even take your dog out onto the water in Hilton Head. A few of the local tour companies allow well-behaved, leashed dogs on their boat cruises. Just be sure to call ahead to confirm. One favorite is Captain Mark's Dolphin Cruises. Maybe your pup will even meet a new dolphin friend. 
Hunting Island State Park
Hunting Island State Park is the most popular state park in South Carolina. This coastal park not only offers plenty of marshland and forest to explore, but it even includes 5 miles of gorgeous beachfront and even a saltwater lagoon! Reserve a campsite to cuddle up with your pup under the stars. 
Dogs are allowed most everywhere within the park as long as they're on a leash six feet or shorter. The three exceptions are the Hunting Island Lighthouse, the pier, and the cabin.  
Relax with your dog on the beach; just be sure they don't disturb any of the other wildlife. If your furbaby needs a little exercise, you won't want to miss out on the hiking trails in Hunting Island. There are 12 trails in total and each one will give your dog lots to sniff and explore. 
Once your pup is worn out and relaxing back at your campsite, the rest of the family might enjoy renting kayaks, going fishing, or walking up the 167 steps to the top of the lighthouse. 
Isle of Palms 
Isle of Palms is a beautiful, quaint beach town near Charleston, SC. The town loves their furry visitors as much as their human ones and welcome dogs year round with a few guidelines. 
Dogs are welcome on the beach any season and are even permitted to be off leash at certain times:
5:00 a.m.-9:00 a.m. (April 1 – September 14)

4:00 p.m.-10:00 a.m. (September 15 – March 31)
Note that dog owners must still have their leash in hand and the dog must be under voice command.
Stay at one of the many pet-friendly beach rentals while visiting and swing by the dog park located behind the Isle of Palms Rec Department (24 28th Avenue). 
An easy 40-minute drive will take you into the ever-popular Charleston downtown area. Explore the cobblestone streets with your family and (leashed) pets. Pay a visit to The Barrel Charleston for a few beers while your dog can run free in the yard and even go for a dip in the Secessionville Creek!
At dinner, your family will love the coconut shrimp and fried seafood at Coconut Joe's Beach Grill, an oceanfront spot that locals frequent. Pups are welcome to join at one of the outdoor tables. Or, bring the whole family (dogs, too!) to The Boathouse for some fresh catch seafood.  
Morris Island Beach 
Looking for another dog-friendly beach near Charleston? Morris Island is the perfect getaway! With the fewest dog rules and limitations, Morris Island will give your pet the chance to run free off leash. 
Whether your family prefers long strolls on the beach or getting the zoomies out with fetch, you'll love the undeveloped, beautiful beach on the island. The only way to reach this remote beach is to take a boat from Charleston. But, don't worry if you don't have your own boat! Adventure Harbor Tours offers 3-hour dog-friendly tours of the island. 
Watch the dolphins, relax on the beach, or go exploring. Morris Island is a great getaway for the whole crew!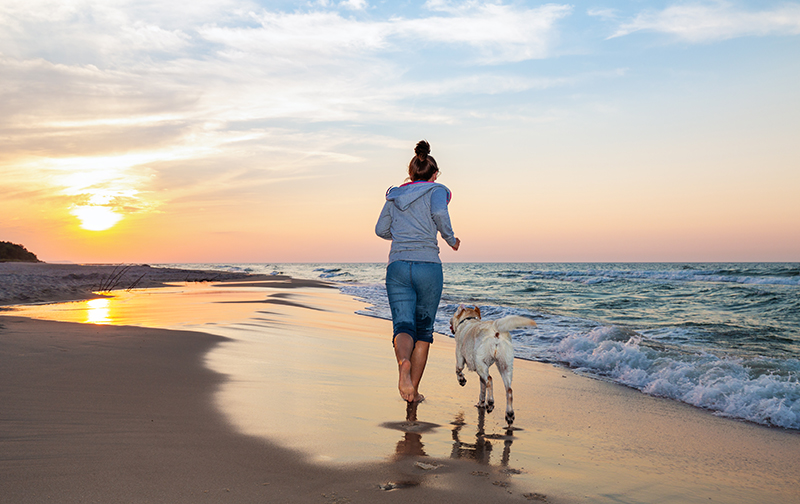 Your Favorite Dog-Friendly South Carolina Beaches
Your doggo is sure to love these beautiful South Carolina beaches. Plus, you can enjoy your vacation more when you know that your pup is safe and happy. Just remember to always bring plenty of water for you and your dog on your beach outings. Be sure to always pick up behind yourself and don't disturb the wildlife. 
Have you visited any of these dog-friendly beaches in South Carolina? Share some snaps of your family splashing around on Instagram or Facebook and tag us @carolinatravelr!
PS – don't miss our story on the Top 5 Dog-Friendly North Carolina Beaches