With such a beautiful coastline, North Carolinians know all about the fun of a good beach day. Riding the waves, building sandcastles, and strolling along the beach hunting for seashells are all great ways to enjoy the coast. The only thing that might make a day on the shore even better is getting to bring along your furry family members. Luckily, you'll find many dog-friendly beaches in North Carolina along the coast.
These beaches may have their own unique guidelines for beach-goers and their dogs. While some may only allow pups to visit the beach on a leash and in the off-season, others have looser restrictions.
We've rounded up the five best dog-friendly beaches in NC. Plus, we're sharing tips for finding a place to stay and fun ideas when you want to step off the beach with your doggo.
Share your dog beach pix with fellow Carolina Travelers. Click on over to our Facebook Group – Day Trips with Carolina Traveler and share your fun experiences!
Corolla Beach 
A secluded beach located in the Outer Banks, Corolla Beach gives a small-town vibe and a classic Carolina experience. 
Dogs are allowed on the beach year-round as long as they are on a leash and pet owners clean up behind them. Since there is no "off-season" and the pet rules remain the same year-round, Corolla is the ideal summer spot for dog owners. 
While relaxing on the beach, you might come across Corolla's famous wild horses. Remember to keep your distance (both pets and humans must remain 50 feet from the beautiful horses).  
Your doggo will love hitting up "yappy hour" at Outer Barks for doggie daiquiris and zoomies with other furry friends. When it's time for the whole family to feast, Corolla Cantina is a casual, dog-friendly restaurant. Pups are allowed to join the family at an outdoor table. Yummy coastal Mexican food and a lighthouse view make for the perfect evening out. 
At night, your family can relax knowing that dogs are welcome in many rentals and hotels such as the Inn at Corolla Lighthouse. 

Duck Beach 
If you're looking for another Outer Banks dog-friendly location, Duck Beach has a lot to offer! With the Currituck Sound to the West and the Atlantic Ocean to the East, Duck Beach has a charming resort-town vibe. 
Puppers will love this one as they're able to play off-leash on the beach as long as they're well-behaved and supervised. Access to the beach is limited to residents and renters; there is no public access. 
Duck Trail runs the entire length of the town and is a great place to take your friend for leashed walks. Many restaurants and shops can be reached through this trail as well. 
Don't miss Sunset Ice Cream and Cappuccino, where humans can enjoy banana splits and blended iced coffees while the best-behaved pups get a free scoop! With so many Outer Banks pet-friendly vacation rentals, you're sure to find the perfect home for you and your family. 
Carolina Beach 
Carolina Beach is a bustling, family-friendly vacation spot with white sand beaches, a historic boardwalk, and colorful seaside restaurants. During the summer, visitors can enjoy live music and weekly fireworks. 
Dogs must be on a leash at all times in Carolina Beach. The pet rules change throughout the year but are easy to remember. From October 1st to March 31st, dogs are allowed on the beach at any time. From April 1st to September 30th, dogs are only allowed on the beach before 9:00 am and after 5:00 pm. 

At the North End of the beach, Freeman Park allows off-leash roaming from October to March.
Carolina Beach Inn is the perfect pet-friendly hotel. They even leave treats for your pup each night! Dinner at the popular Seawitch Cafe will leave the whole family happy and with plenty of outdoor seating, your doggo will love it too!
Topsail Beach 
A quaint little island in Eastern NC, Topsail Beach (pronounced Tops'l) is ideal for a quiet getaway. 
Dogs must be on a leash under 20 feet from May 15th to September 30th. But, the rest of the year is free game and pups can run wild!
The town is known for being a calm, serene escape. They offer up many unique shops and restaurants for out-of-town guests to enjoy. Plus, it's a short drive into Wilmington, where there's more of a city life feel. 
Golden Dog Inn offers the perfect rental for dog lovers. They even donate to local animal charities with every rental! With plenty of other pet-friendly rentals in Topsail, there's sure to be the perfect home away from home for any family.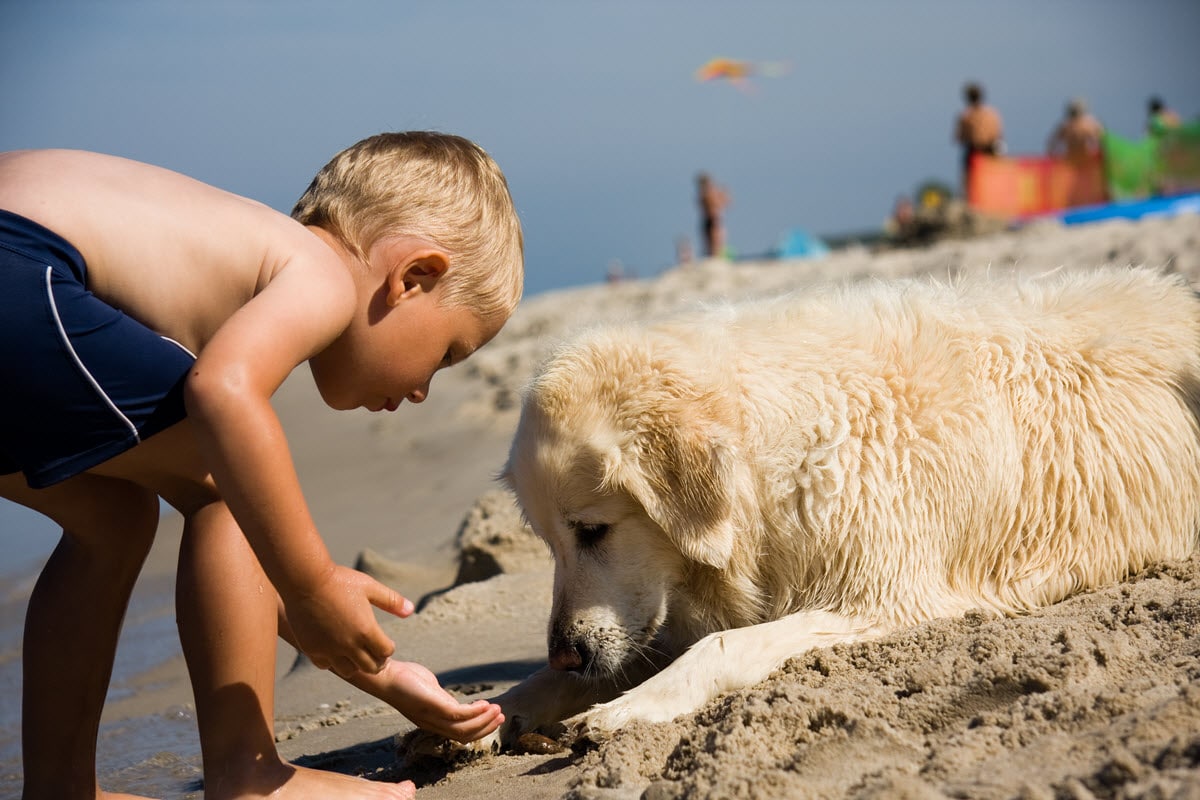 Emerald Isle Beach 
While off-leash frolicking is not allowed on Emerald Isle Beach, leashed dogs are welcome to splish splash year-round. Known for its emerald green waters, this beach is a stunning spot for a week-long retreat. 
Amusement parks such as the Salty Pirate Water Park or Fun World Motorsports will keep the kids happy. Meanwhile, Fido can rest from all of his beach fun back at your home away from home. There are plenty of pet-friendly rentals along this gorgeous coastline.
Don't miss a visit to Muttigans, a local coffee shop and pet shop. Two-legged visitors can enjoy a frappe on the front porch rocking chairs while their four-legged counterparts munch on a bully stick. 
When you want a change of scenery for your daily dog walks, head to Emerald Isle Woods Park. This 41-acre park includes many walking trails through woods and with water views. 
Your Favorite Dog-Friendly Beaches in North Carolina
There's nothing quite like seeing the joy on your dog's face as they splish-splash around the waves and dig through the sand. Sharing the beach experience with furry family makes it even more special. Each of these dog-friendly beaches in NC deserve a visit. That means it's time to start planning your first beach weekend road trip!
Do you have a favorite dog-friendly beach in North Carolina that we've missed? Let us know via email. Don't forget to share a snapshot of you and your pup soaking up the sun on the shore. Tag us @carolinatravelr on Instagram!