Your clicks make a difference. When you buy something from the links on our site, we may earn an affiliate commission at no additional cost to you.


In an attempt to honor the natural diversity of our epic state, we narrowed it down to the 10 most popular state parks in North Carolina.
Hanging Rock State Park
Danbury
(336) 593-8480
Looking for a weekend getaway with the family? Swimming, canoe rentals, mountain biking and rock climbing are just a few of the recreational offerings at Hanging Rock.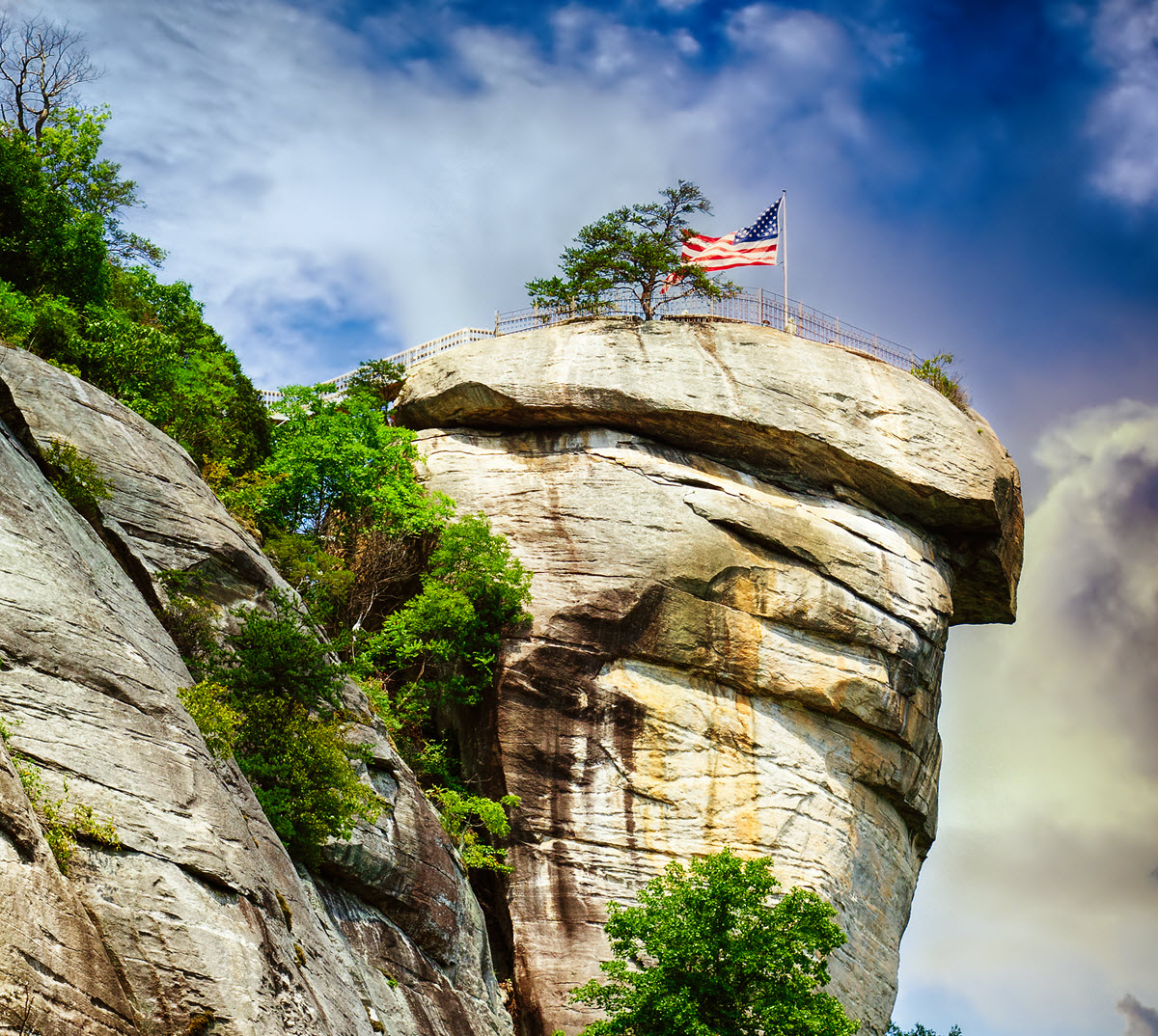 Chimney Rock State Park
Chimney Rock
(828) 625-9611
At Chimney Rock, your kids will be excited to climb the 315-foot rock formation that gives the park its name. Alternatively, babies and toddlers can join you for the ride to the top in a state-of-the-art elevator for incredible views.
Grandfather Mountain
Linville
(828) 963-9522
Spectacular hiking and backpacking are available in Grandfather Mountain's 2,456-acre backcountry. This is a challenging hike, but worth it for the sheer grandiosity of this human-looking rock formation.
Morrow Mountain State Park
Albemarle
(704) 982-4402
Experience simpler times with your children at Morrow Mountain State Park. The waters of Lake Tillery and the Pee Dee River offer fishing and boating, and the landscape provides miles of trails for exploring on foot or horseback.
Medoc Mountain State Park
Hollister
(252) 586-6588
Hit the trail in one of three ways. This park features ten miles of trails for hiking, biking or horseback riding encircling Fishing Creek and Medoc Mountain.
Dismal Swamp State Park
South Mills
(252) 771-6593
Don't let the name fool you. This state park represents lowland beauty and culture. Enjoy nearly 17 miles of former logging roads that serve as trails for hiking and mountain biking through the Great Dismal Swamp.
Jockey's Ridge State Park
Nags Head
(252) 441-7132
Jockey's Ridge State Park hosts the tallest living sand dune on the East coast is an outdoor classroom for studying coastal ecology. Your family will get first-hand experience with the constantly changing geology that forms our beaches.
Fort Macon State Park
Atlantic Beach
(252) 726-3775
Fort Macon is the scene of a perfectly-restored Civil War fort, a museum quality coastal education center and an unmatched stretch of beach for swimming and fishing. The fort holds cannon and musket demonstrations and even offers guided tours.
Pilot Mountain State Park
Pinnacle
(336) 325-2355
Miles of trails and spectacular scenery await your family at the 2,000 foot-tall Pilot Mountain.
Crowders Mountain State Park
Kings Mountain
(704) 853-5375
The twin peaks of Crowders Mountain provide challenging hikes along miles of trails with spectacular views of the surrounding countryside. Best of all, you don't have to drive deep in the mountains to experience this incredible range.
What's your favorite North Carolina State Park?
We love to hear from our readers. Let us know what your favorite state park is by tagging @CarolinaTravelr on Instagram.