Summer in the Carolinas is a time for exploring the charming towns and picturesque landscapes that dot this region. From the sandy beaches of Corolla, NC, to the rolling hills of Burlington, NC, there are endless opportunities for outdoor adventure and relaxation. For those seeking a taste of small-town charm, Danbury and Madison, NC, offer a wealth of historic landmarks and quaint shops to explore. And for wine enthusiasts, the Yadkin Valley of North Carolina is a must-visit destination, with over 40 wineries nestled amidst the lush countryside. Whether you're looking to soak up the sun on the beach, hike through scenic trails, or sip wine with stunning views, summer in the Carolinas has something for everyone.
See our sponsors and find more things to do in the summer issue of Carolina Traveler magazine. Subscribe at CarolinaTraveler.com/subscribe.
Sponsored by…
Venture off the beaten path and take in the sounds of summer
When the weather warms up, the music heats up in Alamance County. Our outdoor concerts and festivals offer fun and entertainment for the whole family. From North Carolina's famous bluegrass sound to Celtic, Americana, or Latin, there's something for every musical taste. Join us for Saturdays in Saxapahaw, the Kinfolk Concert Series and the countywide Musical Chairs Series, all beloved annual traditions.
Grab your lawn chair, sit back and relax. Bring your listening ears for small surprises.
Looking for a place to stay? Compare hotel rates and save, with the hotel search engine
Discover the best attractions in Corolla
Corolla, NC, is a hidden gem of the Outer Banks. Its unspoiled beaches, wild horses, and historic lighthouse are just a few of the attractions that make this coastal town a must-visit destination. Take a tour of the Currituck Beach Lighthouse for stunning views of the Atlantic Ocean and the Currituck Sound. For a closer look at the famous wild horses, head to the Corolla Wild Horse Fund Museum and Store to learn about their history and conservation efforts. Nature lovers can explore the Currituck Banks Reserve, which boasts a variety of bird species and other wildlife. And for a unique experience, take a horseback tour of the beaches and dunes. With its natural beauty and historic charm, Corolla is the perfect spot for a relaxing beach vacation.
A Wild Adventure Awaits at North Carolina Zoo in Asheboro!
The North Carolina Zoo is the largest natural habitat zoo in the world! There is plenty of room to roam for both animals and people with large, spacious habitats and five miles of shaded walking trails. In addition to the amazing adventures with our wildlife, the Zoo offers extra activities such as the Kidzone play area and our seasonal attractions such as the Carousel, Butterfly Garden and Giraffe Deck. These wild experiences are guaranteed to delight kids of all ages. For the most up to date information on how to visit the zoo and seasonal attractions, please visit www.nczoo.org.
---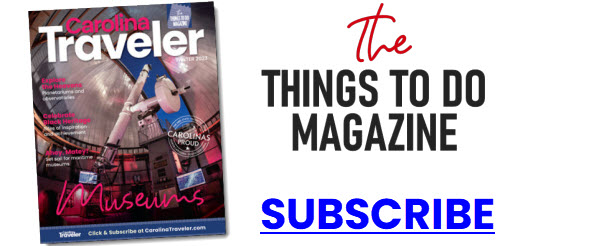 ---
Experience the charm of Stokes County: a hidden gem in North Carolina
Stokes County, located in the northern Piedmont region of North Carolina, boasts a variety of natural and cultural attractions. The Dan River, which runs through the county, offers opportunities for canoeing, kayaking, and fishing. Visitors can explore Hanging Rock State Park, which features 20 miles of hiking trails, waterfalls, and a mountaintop lake for swimming and boating. History buffs can visit the Moratock Iron Furnace, built in 1843 and listed on the National Register of Historic Places, or tour the Historic Stokes County Courthouse. Art lovers can check out the works of local artists at The Arts Place of Stokes, or attend the annual Stokes Stomp Festival on the Dan, a celebration of local music, food, and crafts. Whether you're seeking outdoor adventure, history, or art, Stokes County has something for everyone.
Explore the best kept secrets of Rockingham County
Rockingham County, North Carolina is a hidden gem for travelers looking to explore the beauty of rural America. This area boasts breathtaking mountain views, stunning waterfalls, and fascinating historic sites, not to mention boatloads of water activities! Visit the Mayodan Walking Trail, a converted rail line that takes you on a peaceful stroll through wooded areas and over the Mayo River. Take a drive along the scenic Dan River and enjoy the peaceful surroundings. For history buffs, there's the Madison Dry Goods Building, a former department store that now houses a museum showcasing the history of the area's textile industry. And no visit to Rockingham County would be complete without experiencing the iconic Castle McCulloch, a castle-inspired venue with beautiful gardens and a stunning waterfall that's perfect for a romantic photo op. Whether you're looking for a quiet escape or an adventure-filled trip, Rockingham County has something for everyone.
Savor the Flavor: Explore the hidden culinary treasures of Duplin County
Nestled in eastern North Carolina, Duplin County boasts an array of attractions that will satisfy the curiosity of any traveler. Indulge in the county's famous sweet muscadine wines while taking in the picturesque vineyards and tasting rooms. Explore the rich history of this area at the Duplin County Historical Museum, where exhibits showcase the county's past from prehistoric times to the present day. For a truly unique experience, visit the North Carolina Muscadine Grape Harvest Festival held each year in September. This celebration is filled with live music, arts and crafts, carnival rides, and of course, plenty of muscadine wine to taste. Looking for some outdoor adventure? Head to the Bay Tree Lakes Recreation Area, where you can swim, boat, fish, or just relax on the sandy beach. Duplin County is the perfect destination for those looking to experience the charm and hospitality of rural North Carolina.
Find hotel deals when you use the hotel search engine
Score big on adventure at Cook's Sporting Goods in North Wilkesboro
Cook's Sporting Goods in North Wilkesboro, NC is a place where you can find everything you need for your next outdoor adventure. Whether you are a seasoned hunter or a novice fisherman, Cook's has got you covered. The store is packed with brand-name apparel and top-quality gear, from firearms and ammunition to fishing rods and reels. Their knowledgeable staff are passionate about outdoor pursuits and are always ready to offer expert advice. Cook's is a one-stop-shop for all your outdoor needs, and the friendly atmosphere makes it a pleasure to shop there. If you're planning a trip to the great outdoors, make sure to stop by Cook's Sporting Goods for everything you need to make it a success.
Surry County: where mountains meet wines and adventures await!
Tucked into the foothills of the Blue Ridge Mountains, Surry County, North Carolina, is a treasure trove of charming small towns, breathtaking natural beauty, and rich cultural heritage. Visitors can explore the historic town of Mount Airy, the birthplace of actor Andy Griffith, and take a stroll through the quaint streets that inspired the fictional town of Mayberry. Surry County is also home to some of the most stunning wineries and vineyards in the state, with a variety of award-winning wines to taste and enjoy. Outdoor enthusiasts can hike, bike, and fish in the area's many parks and nature preserves, including Pilot Mountain State Park and the Yadkin River. With its blend of Southern hospitality, scenic beauty, and cultural offerings, Surry County is the perfect destination for those seeking a true taste of North Carolina.
Get up close and personal with the majestic tigers of Tiger World
Tiger World in Rockwell, NC, is a thrilling destination that lets you get up close and personal with some of the world's most magnificent big cats. Whether you're a feline fanatic or just looking for an unforgettable experience, Tiger World will leave you in awe. The sanctuary is home to over 60 animals, including tigers, lions, leopards, and more. You can take a guided tour to learn about each cat's personality and behavior, or even book a behind-the-scenes experience to feed and interact with the animals. But it's not just about the cats – there are also opportunities to see other wildlife like primates and birds, and learn about conservation efforts to protect these incredible creatures. A visit to Tiger World is a must-see for any animal lover or adventurer.
Find these amazing destinations and adventures in the Summer issue of Carolina Traveler Magazine. We'll deliver the magazine to your home, and you'll have access to all of the back issues online.
Join the fun! Learn more about subscription options at CarolinaTraveler.com/subscribe