Prepare to be swept away by a whirlwind of electrifying excitement in the enchanting fall 2023 destinations! Brace yourself for a jam-packed issue bursting with family-friendly delights such as Boo at the Zoo and the Carolina Renaissance Festival. For our adult readers seeking adventure, get ready to ride the (tranquil) waves of stand-up paddleboarding in Wilkesboro or embark on a vineyard escapade in the scenic Yadkin Valley. Your autumn is about to overflow with unforgettable experiences and boundless fun in these vibrant Carolina locales — get set for an autumn like no other with a trek through these fall 2023 destinations!
See our sponsors and find more things to do in the fall 2023 issue of Carolina Traveler magazine. Subscribe at CarolinaTraveler.com/subscribe.
Sponsored by…
Here's Your Chance To Meet The Queen At The Carolina Renaissance Festival
Your clicks make a difference. When you buy something from the links on our site, we may earn an affiliate commission at no additional cost to you.


Prepare for eight enchanting weekends of merriment and adventure at the Carolina Renaissance Festival, taking place Saturdays and Sundays from September 30 to November 19. Immerse yourself in a world of royalty as jousting knights clash in epic battles. Marvel at the majestic art of falconry as these magnificent birds take flight with grace and precision. Feast like a king or queen with delectable fare, from turkey legs to hearty stews, and wash it down with an assortment of fine ales. Encounter mischievous fairies and jesters who will leave you in fits of laughter with their antics and wit. With something for everyone, the Carolina Renaissance Festival promises an unforgettable journey back in time filled with adventure and wonder! We strongly recommend arriving early to what is easily one of the most popular fall 2023 destinations in the Carolinas.
Splash Around In Wilkesboro
Discover the hidden gems of Wilkesboro, NC! Whether you're into kayaking, tubing, or paddleboarding, the Yadkin River offers endless waterborne fun with breathtaking views — made available through the outfitters at Foothills Outdoor Adventures. Land-lubbers can challenge friends to a game of disc golf at Rolling Pines. For serene fall 2023 destinations, take a leisurely walk through the Talking Trees Trail at Rendezvous Mountain. Meanwhile, art enthusiasts shouldn't pass up the opportunity to view exquisite frescoes by renowned international artist Ben Long. His masterpieces are scattered throughout the area, offering a glimpse into his incredible talent and the region's rich cultural heritage.
Start Your Holiday Planning For A Visit To Corolla
Santa's sleigh is making a splash on the coast this Christmas! Corolla, NC is your ultimate festive fall 2023 destinations in the Carolinas. It all kicks off with the Whalehead Mansion's enchanting Candlelight Christmas Tour, spreading holiday cheer every Friday and Saturday from November 24 through December 16. Wander through the grandeur of the mansion and savor delightful holiday treats. Discover unique gifts and treasures at the 8th Annual Christmas Craft Village in Historic Corolla Park. Santa and Mrs. Claus themselves will be there, surrounded by talented local vendors like Panning for Pearls, The Crafty Duck, and Sea Gypsy Handcrafted. The celebration doesn't stop there! Join the jolly vibes at Corolla Village Christmas, lighting up Friday and Saturday evenings from November 24 to December 30. It's a free-entry extravaganza with food trucks, fantastic shopping, and holiday festivities galore, perfect for all ages to revel in the magic of the season!
Looking for a place to stay? Compare hotel rates and save, with the hotel search engine
Your Little Punkin Will Love This Halloween-Themed Animal Event!
Get ready for not one, but two weekends of super-duper Halloween fun at the Boo at the NC Zoo! Mark your calendars for Saturday and Sunday – October 21 & 22 and October 28 & 29. It's a magical, family-friendly Halloween event that's just right for kids aged 4-12! Get ready for a treat-filled adventure as you trick-or-treat your way through the zoo and play exciting games and bounce on fun inflatables. Dress up your little pumpkins and join the costume contests at the Africa Amphitheatre. The NC Zoo is about friendly Halloween fun, so make sure your costumes are not too scary. Prizes go out to winners in the following categories: 0 to 5 years, 6 to 12 years, 13 and up, and themed family or group costumes. Get ready for spooktacular fun at the Boo at the NC Zoo, one of the best kid-friendly fall 2023 destinations in the Carolinas.
It Wouldn't Be Fall Without The Autumn Leaves Festival!
Celebrate the vibrant spirit of autumn in Mayberry! October brings the enchanting Autumn Leaves Festival™ to the heart of Mount Airy, NC, and you won't want to miss it. This nationally acclaimed event weaves together a tapestry of music, arts, crafts, and delectable cuisine, creating an atmosphere of pure festivity. From October 13 to 15, 2023, the streets of Downtown Mount Airy burst with life as people from all over the country and local community come together. Wander through the charming streets, discovering vendors with handcrafted treasures and tantalizing foods that are worth the wait. Explore must-see attractions and be serenaded by some of the finest musicians around. The Greater Mount Airy Chamber of Commerce extends a warm invitation to you, your friends, and your family to partake in the cherished tradition that is the Autumn Leaves Festival™. See you at one of the most well-attended fall 2023 destinations in the Carolinas, where autumn's magic comes to life!
Alamance County Is One Of The Best Fall 2023 Destinations In The Carolinas!
Embrace the vibrant colors and crisp air of autumn during the Year of the Trail in Alamance County, NC, where a plethora of exciting fall activities await! As the leaves begin to turn, the county's extensive trail system beckons outdoor enthusiasts. Lace up your hiking boots or hop on your bike to explore the scenic beauty of the area's diverse landscapes. Venture along the Haw River Trail, where you can witness the foliage reflected in the tranquil waters, or embark on an equestrian adventure through wooded trails. For a more leisurely experience, enjoy a peaceful walk along the Great Alamance Creek Greenway, taking in the sights and sounds of the season. Don't forget to check out local events and festivals celebrating the Year of the Trail, offering opportunities to engage with the community and revel in the unique charm of Alamance County's autumnal splendor. Whether you're hiking, biking, or simply savoring the season's ambiance, fall in Alamance County promises unforgettable moments of outdoor enjoyment and memorable  fall 2023 destinations.
---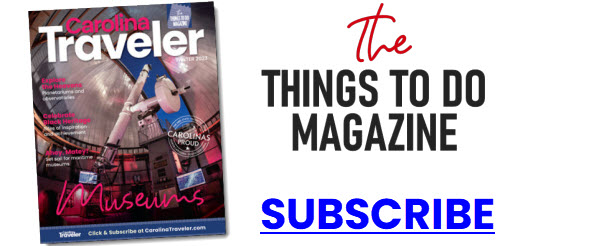 ---
It's Everybody's Weekend In Thomasville, And Everybody's Invited!
For over a century, Thomasville, North Carolina has been the proud host of the renowned Everybody's Day festival, a celebration that truly lives up to its name! This year, mark your calendar for September 29-30, and get ready for a weekend brimming with excitement and inclusivity. The festivities include a gospel music stage, a delectable food court with flavors for everyone, thrilling children's rides and games, and a vibrant arts and crafts extravaganza. Don't forget to swing by DJ Tommy Rock's Party Zone for non-stop fun and entertainment! As the sun sets, it's time to put on your dancing shoes and groove to the incredible tunes of talented local musicians. Everybody's Day is a celebration for all, where unity and joy come together in perfect harmony. Join the community of Thomasville, NC for an unforgettable weekend of music, culture, and community spirit!
Festivals Galore In Rockingham County
Get ready to embrace the festive spirit of fall in Rockingham County! As the leaves turn golden, gather at beloved spots like Madison Dry Goods, where the lively Bluegrass on the Hardwoods will have you tapping your toes. Challenge your wits at trivia tournaments held at Lucky City Brewing in Reidsville. The real excitement unfolds at the annual Riverfest celebration from September 15-16 in Uptown Eden, where the town comes alive with music, art, and community spirit. Take part in axe throwing, chainsaw carving, gem mining, sand art, and a mobile ninja warrior course! For a dose of classic charm, head over to Freedom Park Music & Cruz-In, where a dazzling array of classic cars cruises along to the groovy tunes of the Carolina Kool Band. Rockingham County is set to become festival central, with the FAB Festival in Reidsville and the Fall for Madison Festival in downtown Madison — both on October 21. Join the reveling locals at one of the best fall 2023 destinations where music, fun, and festivities converge!
Go On A Pumpkin Prowl At The Animal Park At The Conservators Center
Get ready to embark on an exhilarating fall expedition at the Animal Park at the Conservators Center! Each step you take on the expansive grounds promises a thrilling encounter with rare and endangered species, filling your day with wonder. Join captivating guided tours, led by passionate experts who will unveil the secrets of the animal kingdom, making your visit an educational delight. For the ultimate adrenaline rush, seize the opportunity to feed these magnificent creatures, feeling their eager eyes lock onto you with curiosity and appreciation. Don your coat and invite a friend to the annual Pumpkin Prowl — participate in pumpkin selection, decoration, and carving before the keepers transform the animal enclosures into enchanting autumn wonderlands. Witness the delight as our animals encounter this seasonal surprise. Pumpkin Prowl is a self-guided walkabout event, allowing you to explore at your leisure, savoring moments with your favorite residents. Join the Animal Park at the Conservators, one of the most unforgettable fall 2023 destinations in the Carolinas!
Find hotel deals when you use the hotel search engine
Duplin County Is Your New Favorite Fall Day Trip Destination
Step into the vibrant autumn enchantment of Duplin County, where a tapestry of experiences awaits you! Dive into the rich history of this region at the Duplin County Veterans Museum, where stories of valor and bravery come to life. Savor the essence of the land at local wineries, where you can indulge in delectable wines amidst picturesque vineyard landscapes. But wait, there's more! Circle September 30 on your calendar for the NC Muscadine Festival, a celebration bursting with excitement. Highlights include the lively tailgating decoration contest and the amateur wine-making competition, where submissions are judged blindly, focusing on color, clarity, bouquet, and flavor. Join oenophiles of the Carolinas in Duplin County for an autumn adventure like no other!
Cook's Sporting Goods Has All Your Gear For Fall Outdoor Adventures
Stop into Cook's Sporting Goods in North Wilkesboro, NC—your ultimate hub for all things outdoor adventure! Step into a realm of boundless excitement, where Cook's extensive range of gear fuels your love for the great outdoors. Target success with Cook's top-tier hunting equipment, featuring precision rifles, high-performance bows, and essential accessories that boost your precision and stealth. Cast your line with unwavering confidence, equipped with Cook's comprehensive selection of fishing gear, from sturdy rods and reels to an extensive array of baits and lures. Prepare for your next outdoor escapade with Cook's rugged camping gear, reliable hiking equipment, and protective apparel designed to conquer any terrain and weather. At Cook's Sporting Goods, their dedicated staff is committed to outfitting you with the finest gear that matches the spirit of adventure within you. Get ready to experience the thrill of the hunt, the joy of the catch, and the awe-inspiring beauty of all of the outdoor  fall 2023 destinations with Cook's by your side!
Christmas With The Claws!
Get ready for an unmatched adrenaline-pumping adventure at Tiger World in Rockwell, NC! Buckle up as you enter a realm where the world's most breathtaking big cats rule supreme. With a majestic ensemble of over 60 animals, including powerful tigers, majestic lions, and elusive leopards, Tiger World delivers a heart-pounding, up-close encounter that will leave you in awe. For the ultimate rush of adrenaline, elevate your experience and secure a jaw-dropping behind-the-scenes adventure. Get up close, feed, and interact with these awe-inspiring cats, creating memories that will last a lifetime. And don't miss the chance to embark on extraordinary holiday expeditions at Tiger World, like Pumpkin Pals in November and Christmas with the Claws in December. Join Tiger World — one of the most beloved year-round and fall 2023 destinations — for a wild ride of a lifetime!
Wear Your Comfiest T-Shirt To The NC Cotton Festival
Get ready to celebrate the 23rd annual North Carolina Cotton Festival, happening on November 4, 2023, in spectacular style! Join the cotton-themed extravaganza for a day packed with wholesome fun — easily one of the best fall 2023 destinations for the whole family. Delight in the vibrant parade featuring floats, live music, and dazzling performances and sample mouthwatering local treats, cotton candy, and culinary delights from food trucks offering a taste of North Carolina's finest. Get crafty with interactive workshops, admire stunning artisanal creations, and shop for unique gifts from local vendors. Don't miss the chance to explore the rich history of cotton farming and its significance in North Carolina, with engaging exhibits and demonstrations. There is no admission to join in on the fun, which includes a classic car show featuring more than 100 cars. The 23rd annual North Carolina Cotton Festival promises a day of joy, laughter, and unforgettable experiences for all!
Toast To A Relaxing Winery Weekend In The Yadkin Valley
Embark on an unforgettable getaway to the some of the best fall 2023 destinations in the Carolinas, located in the picturesque Yadkin Valley! This enchanting destination boasts a collection of 12 vineyards renowned for their award-winning wines, inviting you to savor the finest flavors in a breathtaking setting. As you explore this charming region, immerse yourself in the arts and culture at the Yadkin Cultural Arts Center, where creativity knows no bounds. For nature enthusiasts, the Yadkin Memorial Park at Lake Hampton offers a serene retreat, perfect for relaxation and outdoor activities. Take a leisurely canoe ride down the tranquil Yadkin River, or journey through the picturesque countryside along the Yadkin Quilt Trail, where vibrant quilt patterns adorn historic barns, telling stories of the region's heritage. In Yadkin, cherished memories await around every corner, promising an escape filled with beauty, culture, and adventure!
Find these amazing fall 2023 destinations and adventures in the fall 2023 issue of Carolina Traveler Magazine. We'll deliver the magazine to your home, and you'll have access to all of the back issues online.
Join the fun! Learn more about subscription options at CarolinaTraveler.com/subscribe.