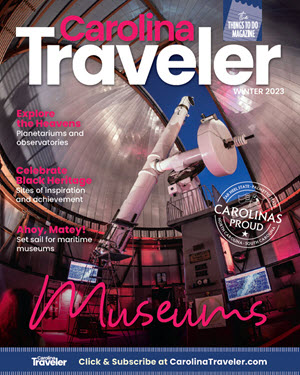 Here's What You'll Find in the Winter Issue of Carolina Traveler
In our annual museums issue, you'll find a treasure trove of maritime museums (Damn the Torpedoes, Full Speed Ahead) which celebrate life along the coast and nautical achievements, from Blackbeard and the Queen Anne to the first submarine to sink another ship in battle, and more!
Carolina Traveler Subscribers Click To Access The Winter 2023 Issue
We explore the heavens in Palmetto Moons & Starry Tar Heel Skies, thanks to clear winter skies and a great selection of planetariums and observatories. We share four great options across the Carolinas where you can see the stars.
Get instant access to this issue and all of our back issues – Subscribe Today!
Celebrate Black heritage with a coastal tour in North Carolina (Stony the Road They Trodded) and a Charleston city tour (Follow the Wrought Iron Road), complete with a few interactive experiences (and great food, of course!).
And while the winter weather conditions are fleeting here in the Carolinas, you have some options to experience (or simulate) the life of our more northern friends. In Just Because the Snow Isn't Real… we take you bobsledding (sort of), curling, indoor skydiving, snowshoeing and snow tubing.
The winter fun continues in Day Trips, with excursions to an outdoor ice-skating rink, a winter hike and challenge along the Eno River in Research Triangle Park, and an opportunity to make friends with alpacas and llamas while you tour a working fiber farm.
Winter Events anyone?! How about treating your dog to a little freedom on the ice rink? Or, poo-poo that idea and try racing an outhouse down a ski hill. We tell you when and where, only in the Winter issue of Carolina Traveler Magazine! Subscribe today for all the best things-to-do in the Carolinas.
Finally, the 2023 Winter issue wraps up with a collection of exciting museums in the special Museum Central section.
---