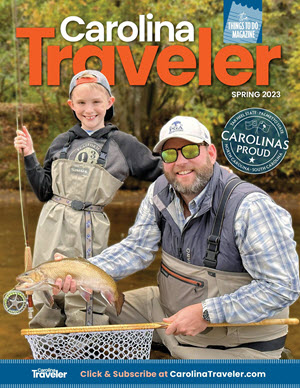 Grab Your Tackle Box And A Towel Because You're About To Dive Into Aquatic Adventures
Here's a fish tale for you… In North Carolina, a fellow by the name of Lee Harris will teach you to catch monster catfish with your hands. It's called "noodling" and these fish can weigh about 40 pounds (wet, of course). There are plenty more aquatic adventures (Take the Plunge) in this issue, too. So if noodling isn't for you, try fly fishing like James Pond. This youngster, his trout, and his guide, Bobby Bennett, are on the cover!
Carolina Traveler Subscribers Click To Access The

Spring 2023 Issue
We're planning ahead for Mother's Day with some fantastic destinations in Treat Yo' Mama Right. From wine country in the northern foothills to exotic animals in the Lowcountry and stops in-between, we share ways for you to treat mama like royalty (moms, if the fam needs some ideas, just ooh and ahh over the trip you like, then casually leave this issue open on the kitchen table).
Get instant access to this issue and all of our back issues – Subscribe Today!
Strike it rich on a trip to 5 of the top gem mining destinations in the Carolinas. We tell you where in Not-So-Hidden Gems. At these locations you can pan for gold, dig for purple amethyst, or filter through buckets loaded with gem stones. Gem mining is wonderful, all-ages activity. Go prepared, though, because you're likely to get dirty (and probably wet).
Field Trips
Teachers, home schoolers and PTO parents will want to look through the special Field Trips section in this issue. Science museums, animal adventures and outdoor learning facilities are among the many field trip options featured.
We spring into the season in Day Trips, with a visit to an indoor trampoline park, a senior-friendly kayak adventure in Burlington, NC, and a visit to the first legal distillery in Oconee County, SC. If you're looking for an early beach trip, we found a day trip to a wildlife refuge that makes the perfect excuse.
Spring also is the social season with several steeplechase races. Among the best in the nation is the the Aiken Steeplechase. Read about it in Events and start making plans! Round out your spring season by celebrating the blooming azaleas and by watching men in kilts perform amazing feats of strength.
Check out our list of amazing Spring Destinations for things-to-do ideas, like a drive-through safari park, and great places to visit like the beach in Onslow County, NC, or Corolla, NC (where the wild horses run free!).
---