When it comes to getting up close and personal with Carolina raptors, it's a whole different level of fascinating! These magnificent creatures are the rulers of the sky, with razor-sharp talons, keen eyesight, and the spirit of true predators coursing through their veins.
Watching Carolina raptors in action, whether it's an eagle, hawk, or falcon, is like witnessing a masterclass in aerial prowess. They swoop, they dive, they soar effortlessly, displaying an agility and grace that leaves you in awe. Their intense focus and calculated precision as they lock onto their prey is a sight to behold. And let's not forget their majestic plumage—those feathers that are perfectly designed for flight, each one a work of art.
The Best Carolina Raptors Centers
Getting up close to these incredible Carolina raptors allows you to appreciate their raw power, their primal instincts, and the sheer beauty of nature's most skilled hunters. Here are some of the best places to experience up-close encounters with Carolina raptors.
Center for Birds of Prey
The Center for Birds of Prey is a nonprofit whose 152 acres are home to many raptor species including eagles, owls, falcons, and vultures. The Center is home to 110 resident educational birds representing 50 species from around the world. This makes it one of the largest and most diverse collections of raptors in North North America, and includes rare species such as the Brown Wood Owl (native to Asia).
Tours of the facility start at the education center and outdoor amphitheater, including a flying field nearly a football field in length. It's at the outdoor amphitheater where visitors can experience the beauty and majesty of these Carolina raptors during the flight demonstrations. Not only can visitors enjoy the thrill of these birds free-flying overhead, but they also have the opportunity to see the birds up close and learn more about them. Each demonstration includes five different Carolina raptors which can vary by season or even daily. Staff at the Center say that the flight demonstration is typically the highlight of everyone's visit.
Visitors can also enjoy the observation deck (if you visit in the fall don't miss your chance to view the hawk migration), the Vulture Restaurant (a large field where leftover food is put out for the vultures to eat), and the gift shop. The site is also home to a medical center which treats injured Carolina raptors, but the medical clinic is closed to the public. This is easily one of the best things to do with kids in Charleston.
Techies will be excited to down-load the Center for Birds of Prey app, which is available for both Android and iPhone. This app provides information about the animals living at the site while giving users detailed directions about where to find each Carolina raptor in the Center. Consider it a thorough map of the Center's layout to help you and your family get the best experience possible during your visit.
The Center for Birds of Prey also livestreams from their Facebook page, so families that want to keep tabs on what's happening with the birds after their visit may want to tune in for more educational opportunities.
Adult tickets are $22 and up to 75 people can sign up for a virtually guided tour to watch these apex predators in action. Tours are available Thursday, Friday, and Saturday beginning at 10:30 a.m
Address: 4719 Hwy 17 N., Awendaw, SC 29429
Phone: (843) 971-7474
SkyWatch Bird Center
If your family is interested in visiting a Carolina raptors center, plan a trip to the coast and stop by the SkyWatch Bird Center. This rehabilitation center heals thousands of Carolina raptors each year on its 10 acres. While SkyWatch is not limited to just birds of prey, there is a heavy emphasis on raptors thanks to a formal partnership formed in 2021 with the Cape Fear Raptor Center.
The Cape Fear Raptor Center is a rehabilitation site that helps injured birds heal and provides informative programs for visitors. Animals that are housed in the Center undergo hospitalization, diagnostic imaging, and even surgical procedures when necessary. After the Carolina raptors have healed, the Cape Fear Raptor Center provides flight conditioning for them, eventually returning the animals to the wild when they make a complete recovery.
While the Cape Fear Raptor Center has currently paused in-person visits to their location during the pandemic, their partnership with SkyWatch Bird Center means visitors can still get the chance to meet impressive Carolina raptors by visiting SkyWatch.
For the current visitation schedule, check out the SkyWatch Facebook Events page. Typically, visitors can stop by between 11 a.m. and 2 p.m. on the listed dates.
Admission to SkyWatch is just $5, and kids younger than 3 don't need a ticket. Kids will have a great time feeding the Carolina raptors on the premises. In fact, SkyWatch encourages them to bring lettuce and grapes so they can feed the animals a delicious, healthy snack during their visit! While the raptors are sure to hold your attention, you'll also find donkeys, emus, and a goat on site!
Address: 3600 Lynn Ave. Castle Hayne, NC 28429
Phone: (855) 407-3728
Carolina Raptor Center
The Carolina Raptor Center is a bird rehabilitation center just north of Charlotte. Here, visitors can walk the Raptor Trail, a path that's about a mile long and features dozens of raptor species.  The tour is self-guided, but you can use their Birds Inspire app to learn more about the Carolina raptors that live here. Three tours are available, including the Highlights Tour, Birds and the Bees Tour, and a Conservation Tour.
Bird lovers can visit Wednesdays through Sundays for either a morning session or afternoon session on the trail. Morning sessions run from 10 a.m. through 12:30 p.m., while after-noon sessions start at 1:30 p.m. and go until 4 p.m. Adult tickets to the Raptor Trail are $12, student tickets are $8, and kids younger than three have free entrance. Seniors, military members and teachers get a $2 discount.
While the Raptor Trail is available regularly, the Carolina Raptor Center schedules additional events through-out the year. Be sure to mark your calendar for the Raptors Rock Summer Camp to get a full immersive experience in the wonderful world of Carolina raptors.
This camp is perfect for kids who love animals, as there are different programs tailored to their specific interests. For example, if your little one can't wait to grow up to work with Carolina raptors, they can sign up for the "Young Vet's Camp." Alternatively, if they always seem to track mud into the house, you can register them for "Nature's Yucky Camp," a program which takes them through messy science experiments and more.
The Carolina Raptor Center also features an Avian Adventures series on YouTube (and UNC CCTV) that addresses some of the most common questions about raptors on Mondays and Tuesdays each week. Tune in for even more information about these stunning birds of prey. Address: 6000 Sample Rd., Huntersville, NC 28078. Phone: (704) 875-6521
Address: 6000 Sample Rd., Huntersville, NC 28078
Phone: (704) 875-6521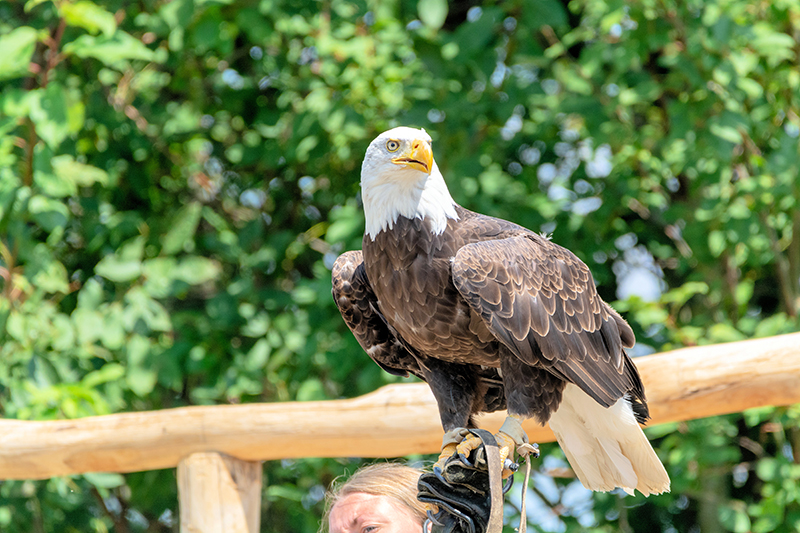 Know Before You Go
Ready to set out on your raptor adventure? Don't forget to wear comfortable walking shoes, as you'll be getting lots of walking in as you glimpse each of the Carolina raptors. Dress in layers so you can be prepared for both the indoor and outdoor temperatures, as these centers typically feature both indoor and outdoor activities.
Book your family travel plans in advance to ensure you get the time slots you prefer. School groups occasionally visit the centers so you'll want to secure your spot early when visiting during the school year.