Your clicks make a difference. When you buy something from the links on our site, we may earn an affiliate commission at no additional cost to you.


Charlotte, NC, has a variety of popular events that take place throughout the year. From Oktoberfest merry-making and holiday escapades to spring food festivals and summer fireworks displays, here are some of the best events in Charlotte, in any given season.
The Best Events in Charlotte in the Winter (December, January, and February)
Put on your hat and gloves and head to one of many magical holiday events in Charlotte. From classical ballets and ice skating rinks to illuminated botanical gardens and gripping basketball games, you and your kids will be way too busy to even think about turning on the TV!
Holidays at the Garden
The Daniel Stowe Botanical Garden hosts Holidays at the Garden, a popular annual event that takes place from November through December. The event features over a million lights, holiday music, and other festive activities. Cuddle with your loved ones around the outdoor fire pit while noshing on delicious s'mores or pick up wine and other gifts at the Garden Store & Wine Nook – this is one of the best events in Charlotte and you'll want to return to year after year!
Charlotte Christmas Village
The Charlotte Christmas Village is a popular outdoor German holiday market that takes place in December and features vendors selling handmade crafts, holiday decorations, and traditional German food and drinks. Check the online schedule to see a cheery lineup of carolers and other holiday crooners, drummers, and bagpipers!
Winter Wonderland SouthPark
Winter Wonderland SouthPark is an outdoor ice skating rink that opens in November and runs through January. The rink is located in the SouthPark Mall parking lot and features holiday music and other festive activities. Grab your loved one and set off for a spin, then enjoy a leisurely meal at the adjacent pub and coffee shop. This is a popular winter event in Charlotte.
Charlotte Symphony's Magic of Christmas
The Charlotte Symphony puts on several performances of the holiday concert, Magic of Christmas, during the winter months. The concert features holiday music, sing-alongs, and a visit from Santa Claus. Attending the Charlotte Symphony's performance is one of the best things to do in Charlotte in the wintertime. The Charlotte Symphony Orchestra venue is also situated within walking distance of some of the best hotels in Charlotte.
Uptown Tree Lighting
The Uptown Tree Lighting is a popular annual event that takes place in November and features the lighting of the nearly 40-foot-tall Christmas tree in Uptown Charlotte. Following the illumination, Charlotte families and revelers can play games, go on rides, and sip on warm holiday beverages.
Charlotte Events in the Spring (March, April, May)
What's the buzz?! Springtime in Charlotte means a return to the great outdoors. On any given weekend, you'll find Charlotte locals and tourists attending annual horseracing competitions, wine and beer tastings, and heart-pumping NASCAR races. Peruse these top spring events in Charlotte to have something to look forward to!
Circle K Speed Street
Circle K Speed Street is a three-day best event in Charlotte that takes place in May 27-29 and celebrates NASCAR racing with live music, food, and other entertainment. Top musical acts have included Joan Jett, Flo Rida and the Steve Miller Band! If you're ready to get out and about after a long period of winter hibernation, Circle K Speed Street is one of the best events in Charlotte in the springtime. Those who like this event will also likely enjoy a day at Carowinds amusement park closeby!
Charlotte Jazz Fest
The Charlotte Jazz Fest is a popular event that takes place March 31 to April 2 and features more than 75 jazz music performances from local and national artists. Performances take place at some of the best concert venues in Charlotte, including the Lincoln Center and Freedom Park. These venues are close to some of the best restaurants in Charlotte, so you can pair your good vibrations with good gustations!
Charlotte Wine & Food Week
The Charlotte Wine & Food Week is a four-day event that takes place April 18-23 and features wine tastings, cooking demonstrations, and other food-related events. This year's culinary delights will be offered at community events like the Collectors Gala & Live Auction, Chandon Bubble Brunch, and Buenas Noches Celebration of Spanish Food & Wine. If you're a foodie in the Queen City, you'll definitely want to check out this ranking of the best restaurants in Charlotte NC.
Queen's Cup Steeplechase
The Queen's Cup Steeplechase is a popular annual horse race that occurs on April 29 and features several races throughout the day, as well as food and drink vendors and other entertainment. Support local charities by attending riveting horseraces with intoxicating views.
Spring South End Wine & Hops Festival
The 9th Annual Spring South End Wine & Hops Festival is a popular beer festival that is scheduled for April 1. This year's event will feature over 20 local and regional breweries, 75+ wineries, as well as food vendors and live music. General admission tickets include four hours of bottomless wine and beer indulgence as well as a souvenir glass.
The Best Summer (June, July, August) Events in Charlotte
Ahh, sweet summertime. Prime season for boating on the lake, grilling out, and celebrating Independence Day. Dig your picnic blanket out of the closet, lather up on sunscreen, and don your favorite shades to get out and explore the best things to do in Charlotte in the summertime.
Taste of Charlotte
The Taste of Charlotte is a popular food festival that runs June 9-11 and features over 100 local restaurants and food vendors, as well as live music and other entertainment. Admission is free while festival coins are available for purchase to sample different restaurant offerings, imbibements, and youth entertainment options. The Taste of Charlotte is also close to a handful of some of the best hotels in Charlotte NC, so book your accommodations early in order to be close to the action!
Charlotte Pride Festival
The Charlotte Pride Festival is a two-day free event that takes place August 19-20 and celebrates the LGBTQ+ community with parades, live music, and other activities. Will the city once again break its record after last year drew more than 275,000 to this color, inclusive parade?
Charlotte Caribbean Carnival
The Charlotte Caribbean Carnival is a popular annual event that is going down June 23-25 this year. The carnival features a colorful parade, live music, and Caribbean food and drink. Who will take the crown at the annual Caribbean Carnival Queen Show?! Attending this colorful and vivacious festival is one of the best things to do in Charlotte in summer.
Charlotte Dragon Boat Festival
The Charlotte Dragon Boat Festival is a popular event that takes place on May 13 at Ramsey Creek Park in nearby Cornelius. This year's festival features dragon boat races, cultural performances, and Asian food and drink vendors. Dance to the beat of the drums while the rowers paddle as hard as they can – everyone's a winner at this family-friendly festival!
HeroesCon
To infinity, and beyond! HeroesCon is a popular comic book convention that comes to Charlotte from June 16-18 and attracts comic book fans and creators from around the country. 2023 guest include the creatives behind captivating comics and shows like Fantastic Four, Guardians of the Galaxy, and the DC and Marvel universes. Dressing up as a family of superheroes is also one of many fun things you can do with kids while you're visiting Charlotte!
Fall (September, October, November)
As peak tourist season comes to an end, Charlotte is hardly ready to let up on exciting and fun events for locals and visitors. The temperate climate is optimal for great outdoor events in the Charlotte parks, while niche festivals pop up each weekend in various genres. Read ahead to learn all about the best things to do in Charlotte in the fall!
Charlotte Film Festival
The Charlotte Film Festival will be calling lights, camera, action from September 27 to October 1 this year. and showcases a variety of independent films from around the world. Secure your oversized bucket of hot, buttery popcorn and favorite refreshments while you gain a fist look at some of the best independent movies released across the globe.
Carolina Renaissance Festival
Who needs a time travel machine when the Carolina Renaissance Festival is right in your backyard? This popular event in Charlotte will operate on Saturdays and Sundays from September 30 to November 19 this year. Relish in reenactments, jousting tournaments, and traditional Renaissance entertainment in the Village of Fairhaven while waving to valiant knits, friendly fairies, and fire-breathing dragons!
Charlotte Oktoberfest
Probst! The Charlotte Oktoberfest is one of the best things to do in Charlotte, currently scheduled for September 30. Expect a diverse, thirst-quenching lineup of the best German and global beers from Charlotte and the Carolinas. Of course, plenty of food vendors will be around to peddle the perfect pretzel, schnitzel, or Bavarian fare with your pints.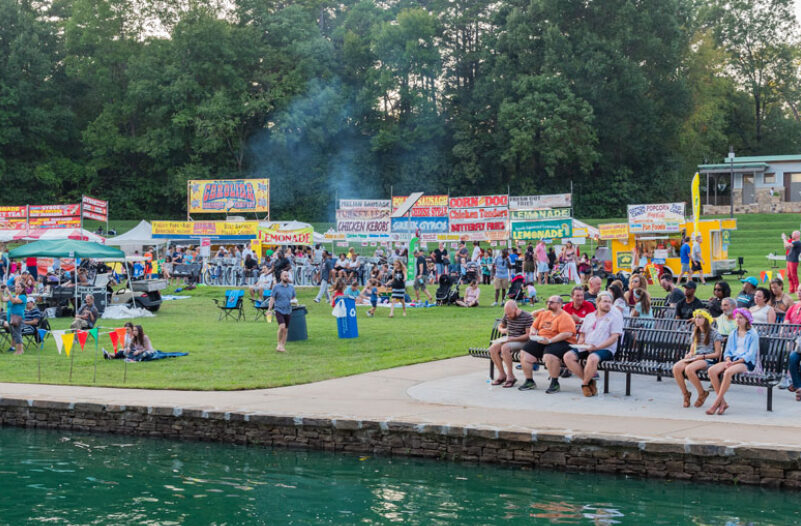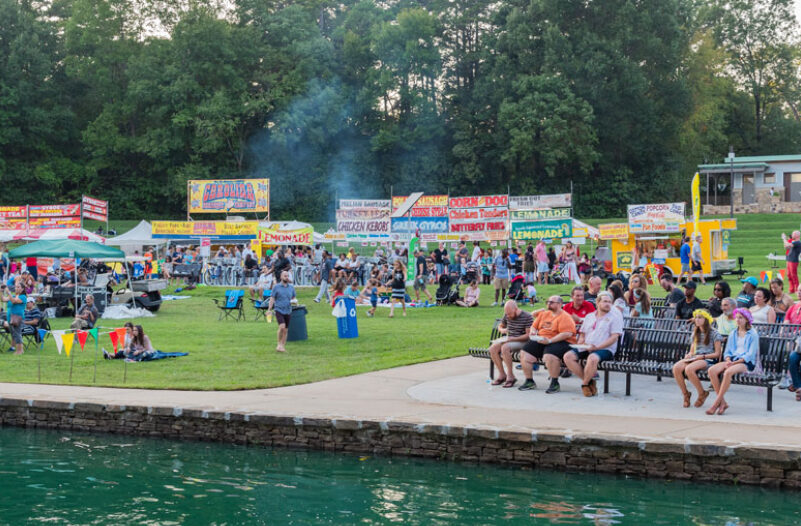 Festival In The Park
Here's your chance to enjoy one of Charlotte's many lovely parks during the temperature autumn months. Festival in the Park is a popular annual event that is slated to occur September 22-24 in Freedom Park. Over 180 artisans and artists will be display and selling their wares, while attendees can dance to live music, sample Charlotte cuisine, and take part in other entertainment.
Charlotte Auto Show
Motorheads, right this way! The Charlotte Auto Show is a popular event that takes place in November and features new cars from major manufacturers, as well as interactive exhibits and entertainment. Learn up-close how award-winning brands are utilizing the latest technology to innovate electric vehicles, and take part in a host of other interactive exhibits. First responders, active military personnel, veterans, teachers, and medical workers can take advantage of Hero Day, where entry is free. Attending the Charlotte Auto Show is one of the best things to do in Charlotte for those who love luxury vehicles!