The Latest From Carolina Traveler
Your clicks make a difference. When you buy something from the links on our site, we may earn an affiliate commission at no additional cost to you.


Hey there, fellow adventurers! Buckle up your helmets for an exhilarating journey with this week's Carolina Traveler newsletter! Dive into our Fall Colors Giveaway as we celebrate International Color Blindness Awareness Month, offering two Carolina Traveler VIP subscribers the chance to win EnChroma color blind glasses. Head to Franklin — the dazzling Gem Capital of the World — to pan for radiant rubies, sparkling sapphires, and opulent opals. Embrace your spontaneous side when you leave your next weekend to fate; spin the Carolina Traveler vacation spinner to discover your next favorite destination! Pedal through the beloved filming locations of two iconic TV shows when you book unique bike tours. There's also plenty of time to win free tickets to the Carolina Renaissance Festival.  Learn how to join our Carolina Traveler Facebook group and become a subscriber to the Carolina Traveler magazine!
Enter The Fall Colors Giveaway To Win A Free Pair Of EnChroma Color Blind Glasses
In honor of Color Blind Awareness Month this September, Carolina Traveler is teaming up with EnChroma Color Blind Glasses for our Fall Colors Giveaway. We're absolutely thrilled to gift two Carolina Traveler VIPs with EnChroma glasses, offering them the chance to experience a world filled with vibrant, previously unseen colors. Join us in spreading awareness and celebrating the beauty of diverse hues!. Take the color blindness test and learn how to enter.
Oktoberfest Will Be Here Before You Know It!
Get your steins ready for a sparkling Oktoberfest! Across the Carolinas, prepare for a month filled with music, flavor, and whimsy at countless Oktoberfest celebrations. Plot your epic day trips by discovering the Carolinas' finest breweries – it's time for a brew-tiful adventure! Check out our Carolina Traveler recommendations for the best breweries in some of the top NC and SC destinations:
Stay In A Chalet On A Gem Mining Property — Only In The Carolinas!
Welcome to Franklin, the dazzling "Gem Capital of the World!" Here, gem enthusiasts thrive with rich deposits to mine. Discover radiant rubies, sparkling sapphires, and opulent opals. Then, dive into adventure with Appalachian Trail hikes, thrilling Nantahala River rafting, and cascading waterfall treks. Opt for a gem-mining weekend in a cozy chalet—it's priceless fun in Franklin!
LIMITED TIME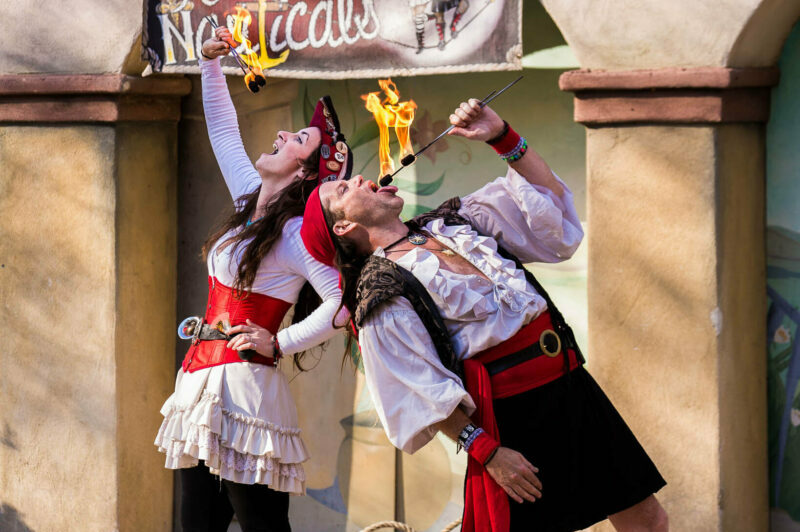 Ren Fest Tickets
Carolina Traveler VIPs — Check your email for instructions on claiming your tickets! While supplies last, we're giving VIPs up to four tickets the the festival (2 adult and 2 child tickets) valued at $104! If you don't see the email in your inbox, check your spam or promotions tab. To get in on all the fun stuff as a Carolina Traveler VIP
,
c
lick 
subscribe
, s
elect the VIP package, c
heck out, and start getting t
ickets to fun stuff!
Let Carolina Traveler's Vacation Spinner Decide Where You'll Go Next
You'll never land on 'Bankrupt' when you spin this wheel! Carolina Traveler's fun new vacation spinner is the ultimate remedy for those lost in the travel doldrums. Unsure where to go for your next day trip? Need a little inspiration? Spin the wheel and brace yourself for a thrilling Carolina escapade!  Simply spin the wheel and get ready to set out upon a thrilling and unforgettable Carolina adventure!
Featured Tours: Explore Famous Filming Locations on Wheels
With the scorching summer sun finally feeling merciful, it's time to swipe the cobwebs from the shed, dig up the old air pump, and embark upon a day of bike adventures! No bike? No sweat! Okay, maybe a teeny bit of sweat…Pedal through the familiar locations featured in iconic TV shows "One Tree Hill" and "Outer Banks" when you book these unique bike tours.
Book tickets for the One Tree Hill bike tour in Wilmington, NC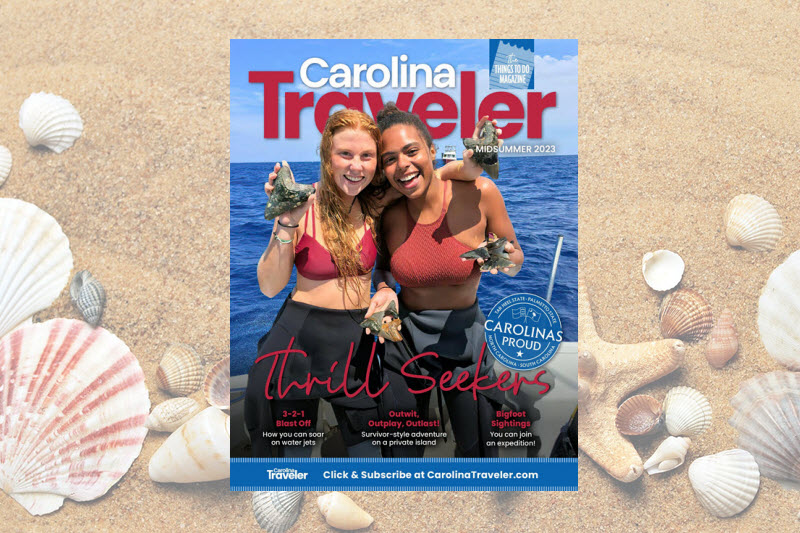 The Thrill Seekers Issue – A Midsummer Favorite
Get your adrenaline pumping with our 2023 Thrill Seekers issue! From paranormal expeditions and shark-tooth diving to white-water rafting and zip-lining over alligator-infested waters, you're sure to find an electrifying new adventure in our annual edition of thrilling activities: the 2023 Thrill Seekers issue of Carolina Traveler Magazine.