The Latest From Carolina Traveler
Your clicks make a difference. When you buy something from the links on our site, we may earn an affiliate commission at no additional cost to you.


Hey there, fellow travelers! Get ready for a fantastic ride with this week's Carolina Traveler newsletter! From September 11 to 17, we're thrilled to whisk you away on an unforgettable Carolina adventure. Learn about our Fall Colors Giveaway in support of International Color Blindness Awareness Month, where we'll be giving away two free pairs of EnChroma color blind glasses to Carolina Traveler VIP subscribers. Dive into our exclusive fall 2023 stories, let serendipity guide your next 3-day weekend with our Carolina Traveler vacation spinner. Cool off in North Carolina's most-beloved crystal-clear lake. Set out on epic aquatic day trips in the stunning Lowcountry and Outer Banks. Learn how to join our Carolina Traveler Facebook group and become a subscriber to the Carolina Traveler magazine!
Enter The Fall Colors Giveaway To Win A Free Pair Of EnChroma Color Blind Glasses
During this month of Color Blind Awareness in September, Carolina Traveler is uniting with EnChroma Color Blind Glasses to illuminate the world with vibrant hues through our Fall Colors Giveaway. With unwavering enthusiasm, we are thrilled to bestow two fortunate Carolina Traveler VIPs with the gift of EnChroma glasses, aspiring to reveal to them a kaleidoscope of richer and more profound colors that have long eluded their sight. Take the color blindness test and learn how to enter.
Get Your Fall 2023 Carolina Traveler Issue Before The First Leaf Drops
Be on the lookout for the fall 2023 issue of Carolina Traveler magazine! We're filling your glass way more than half full with the best weekend winery-hopping itineraries in North Carolina, stories of spooky spectral sightings,
epic fall 2023 destinations
(like the Crabdaddy Seafood & Wine Festival in Jarvisburg (pictured above), and plenty of hot air…one-of-a-kind hot air balloon excursions in the Carolinas, that is!
Visit Bladen County, Home Of NC's Clearest Lake
Summer may be coming to a close, but you can still enjoy plenty of outdoor fun in the sun in places like Elizabeth City, NC! Home White Lake — where you'll find the clearest fresh water in the Carolinas — the area also holds special ties with musical legend Charlie Daniels (his official gallery opened at The Grand Regal at Goldston's Beach this past July!)
LIMITED TIME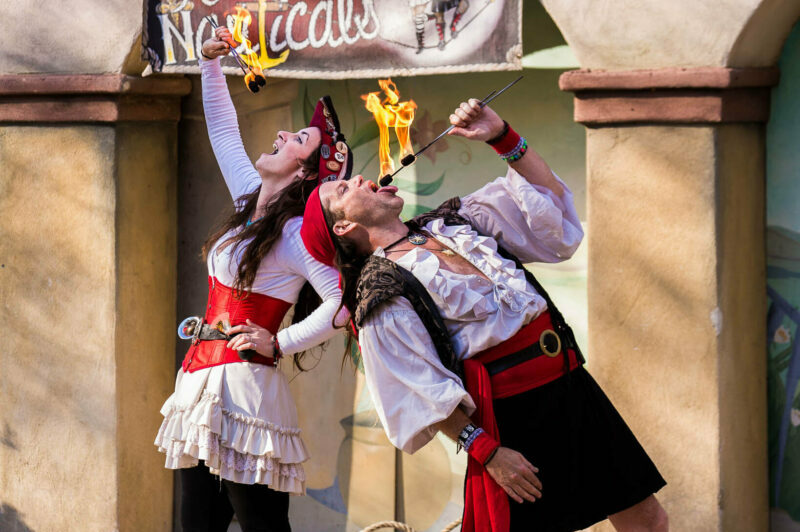 Ren Fest Tickets
Carolina Traveler VIPs — Check your email for instructions on claiming your tickets! While supplies last, we're giving VIPs up to four tickets the the festival (2 adult and 2 child tickets) valued at $104! If you don't see the email in your inbox, check your spam or promotions tab. To get in on all the fun stuff as a Carolina Traveler VIP
,
c
lick 
subscribe
, s
elect the VIP package, c
heck out, and start getting t
ickets to fun stuff!
Let Carolina Traveler's Vacation Spinner Decide Where You'll Go Next
Spin that wheel! Carolina Traveler's brand new vacation spinner has the cure for those yearning to travel and unsure of where to go next. Simply spin the wheel and get ready to embark upon an exciting and quintessentially Carolina adventure!
Featured Tours: Enjoy A Weekend On The Water
Embark on an adventure through Charleston Harbor! Join a thrilling 90-Minute Sightseeing Cruise aboard the mighty Carolina Belle. Dive deep into Charleston's rich history, from Civil War sites to majestic antebellum homes. Glide under the iconic Cooper River bridges and meet the charismatic locals – bottlenose dolphins and pelicans. It's an unforgettable family-friendly journey through time and nature. Book tickets for the 90-minute narrated boat tour
Set sail from Hilton Head and immerse yourself in the tranquility of the Lowcountry aboard a 39-foot America's Cup sailboat. Experience the beauty of the coast and Intracoastal Waterway without the noisy engines. You can even lend a hand with the sails! Cheers to a peaceful adventure with optional drinks available. Book tickets for the Hilton Head sailboat cruise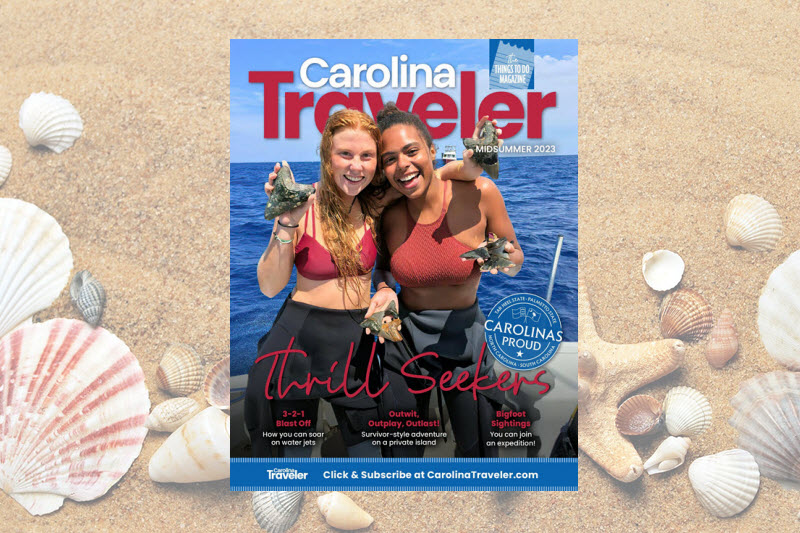 The Thrill Seekers Issue – A Midsummer Favorite
Dive into heart-pounding, high-octane fun – right here in the Carolinas – with the 2023 Thrill Seekers issue! From spearfishing, to kiteboarding, to Survivor-style day trips with friends, you're bound to find an awesome new adventure in our annual selection of thrilling activities in the 2023 Thrill Seekers issue of Carolina Traveler Magazine.