Look homeward, Carolina Traveler, to the mystical mountains of Asheville, North Carolina. Nestled amidst the rugged peaks of the Blue Ridge, this haven of artistic expression and natural beauty beckons those who yearn for a retreat from the ordinary. An Asheville vacation is sure to capture the imagination of wanderers.
It is a place where the charm of a bygone era mingles with the vibrant pulse of contemporary artistry, resulting in a cultural landscape that is as captivating as the landscape itself. From the moment you set foot in this enchanting city, you will feel the pull of its magnetic energy, drawing you deeper into its depths.
In this guide, we shall uncover the hidden gems, wander the winding streets, and immerse ourselves in the soul-stirring experiences that make Asheville a destination like no other. The best restaurants, breweries, and places to stay? Don't worry, friends, we've got all that covered. It's time to the embrace of Asheville's mountains and the embrace of your own wild spirit.
An Asheville Vacation — What's The Draw?
Your clicks make a difference. When you buy something from the links on our site, we may earn an affiliate commission at no additional cost to you.


Asheville welcomes over 11 million visitors annually — what is it about this mountain town that beckons such diverse throngs of travelers from all over the country? A large draw is indubitably the Biltmore Estate, a Gilded Age mansion that stands as a testament to grandeur and opulence.
Explore the meticulously manicured gardens, marvel at the timeless elegance of the estate, and step back in time as you wander through its halls. Additionally, Asheville's downtown area is a treasure trove of historic buildings, charming boutiques, and vibrant street art, offering a glimpse into the city's past while embracing its present.
There's no wrong time to visit Asheville, though you may want to plan your vacation around one of the city's many festivals and popular events. From the North Carolina Apple Festival in the fall to Winterfest at the Grove Park Inn, there are plenty of holiday and seasonal activities to enjoy with your friends and family on an Asheville vacation.
Find Things To Do With The Kids On An Asheville Vacation
Within the realms of Asheville's mystical embrace, a world of wonder awaits the young and curious souls who venture here. Let the city's enchanting spirit guide you to delightful adventures tailored for the young ones.
Embark on a journey through time at the Asheville Museum of Science, where young minds can explore the wonders of the natural world through interactive exhibits and hands-on activities. Take a whimsical ride on the Outdoor Center of Asheville Treetops Adventure Park, where treehouse fantasies come to life amidst soaring canopies.
Immerse yourselves in the imagination-fueled realm of the Hands On! Children's Museum, where creativity knows no bounds. And for those seeking outdoor escapades, the North Carolina Arboretum provides a sprawling playground of botanical wonders, with walking trails, gardens, and special exhibits to ignite the curiosity of budding naturalists.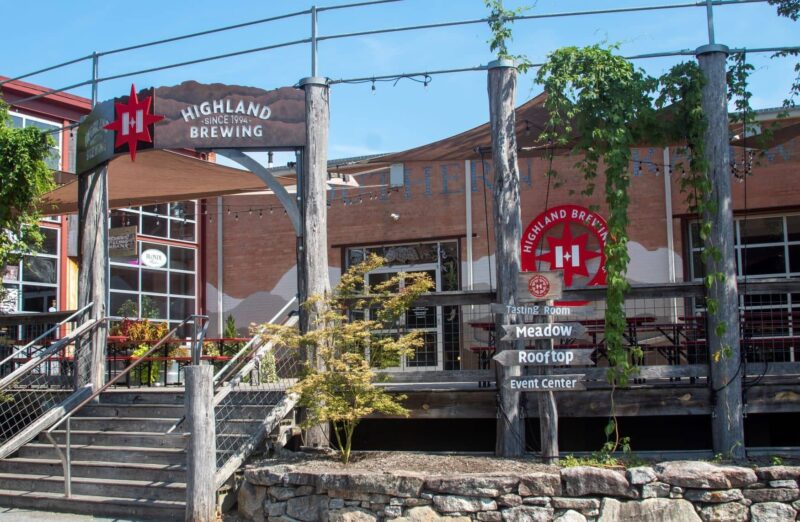 Did You Know That Asheville Is A Beer Destination?
Asheville's beer culture is a tapestry of camaraderie and conviviality. It is a city where beer enthusiasts gather to celebrate their shared passion, where taprooms serve as sanctuaries of spirited discourse and the clinking of glasses resonates with the joyful symphony of friendship. Craft beer festivals and events dot the calendar, providing ample opportunity to raise a glass with fellow aficionados, exchange tales of hop-induced revelry, and bask in the collective merriment that defines Asheville's beer scene.
The city boasts a staggering number of breweries per capita, where visionary brewmasters ply their trade with unwavering devotion. From the hoppy symphonies of India Pale Ales to the seductive depths of stouts and the delicate nuances of Belgian-style ales, Asheville's breweries pour forth a kaleidoscope of flavors that tantalize the senses and ignite the fires of beer connoisseurship.
Dine At Some Of The Best Restaurants In Asheville
It won't take you long, on your Asheville vacation, to understand why the city is a gastronomic oasis, a haven where culinary delights await at every turn. Asheville's dining scene is a vibrant tapestry of flavors, a celebration of local ingredients and global influences that ignite the taste buds and leave a lasting impression. From farm-to-table feasts that honor the bounty of the surrounding mountains to international fare that transports you to far-flung lands, Asheville's restaurants are a testament to the artistry and passion of its chefs.
In Asheville, the farm-to-table movement is not a trend—it's a way of life. The city's chefs embrace the bounty of the region, sourcing fresh ingredients from nearby farms, and weaving them into delectable dishes that pay homage to the land. From the vibrant farmers' markets that offer a cornucopia of seasonal produce to the menus that change with the rhythm of nature, Asheville's commitment to local and sustainable cuisine shines through in every bite.
Where Should You Stay On Your Asheville Vacation?
When it comes to finding the perfect place to rest your head on your Asheville vacation, Carolina Travelers, the city offers a range of accommodations that cater to every traveler's preferences. For those seeking a touch of historic charm, consider staying in one of the city's charming bed and breakfasts. These cozy establishments exude a sense of warmth and hospitality, providing a personal touch that makes you feel right at home.
If you prefer a more luxurious experience, Asheville boasts several boutique hotels that blend modern comfort with unique design elements. From rooftop bars with stunning city views to spa facilities that offer indulgent relaxation, these hotels offer a haven of comfort and style.
For budget-conscious travelers, there are also a variety of affordable options, including well-known chain hotels and cozy motels that provide comfortable accommodations without breaking the bank. And for those who wish to commune with nature, Asheville is surrounded by stunning landscapes, making it a perfect destination for camping enthusiasts. From rustic campgrounds in the Pisgah National Forest to glamping sites that offer a touch of luxury amidst nature's embrace, the options are plentiful.
Tell Me More About The Biltmore Gardens
An Asheville vacation isn't complete without a trip to the Biltmore Gardens, where nature's canvas unfolds in a breathtaking symphony of color and beauty. This botanical sanctuary, nestled within the grandeur of the Biltmore Estate, offers a mesmerizing array of experiences for the wandering soul.
Immerse yourself in the splendor of the Italian Garden, where meticulously manicured lawns, elegant sculptures, and vibrant blooms transport you to the romantic landscapes of Europe. Wander through the Walled Garden, where fragrant flowers and cascading fountains create a haven of serenity and tranquility. Lose yourself in the depths of the Azalea Garden, where a tapestry of vibrant azaleas bursts forth in a kaleidoscope of hues.
And let us not forget the Conservatory, a treasure trove of exotic plants and delicate blooms, where the air is thick with the heady scents of tropical paradise. As you stroll through these horticultural wonders, take a moment to savor the serenity and embrace the healing power of nature. The Biltmore Gardens extend an invitation to pause, to immerse yourself in the timeless beauty of the natural world, and to find solace amidst the ever-changing seasons of life.