It's time to Activate your entry! Make this Christmas season extra special with tickets to the most popular holiday attractions at Myrtle Beach!
Activate Your Entry!
Scroll to the bottom of this page and enter your Contest Activation Code.
Holiday Prize Package
You could win four tickets to each of the holiday shows below. This much fun calls for a 3-day weekend!
Dickens Christmas Show
You'll find more than 300 vendors at the Victorian Holiday Marketplace in the Dickens Christmas Show. You're sure to find a gift for everyone among the displays lined with jewelry, crafts, gifts, toys, art, gourmet foods, holiday décor, and much much more. This national award-winning event is set in a Victorian period and the vendors and performers are dressed in their finest Victorian Christmas apparel!
And when you need a break from shopping, pause to enjoy the strolling Victorian musicians, tea leaf readers, Punch & Judy shows, shadow box displays, a life-sized, historic Santa through the ages Exhibit, and a real live Santa!
Adding to the experience are the festive displays of trees, wreaths, and stockings. Plus, you could win 100 presents in "The Victorian Snow Globe Challenge" and "Scrooge's Hunt for the Missing Presents" which will both be held on the show floor for any one that chooses to participate.
ONE WEEKEND ONLY Nov. 10 – Nov. 13
Dickens Christmas Show
Broadway at the Beach
4750 Hwy 17 S.
North Myrtle Beach, SC
29582
1-843-448-9483
---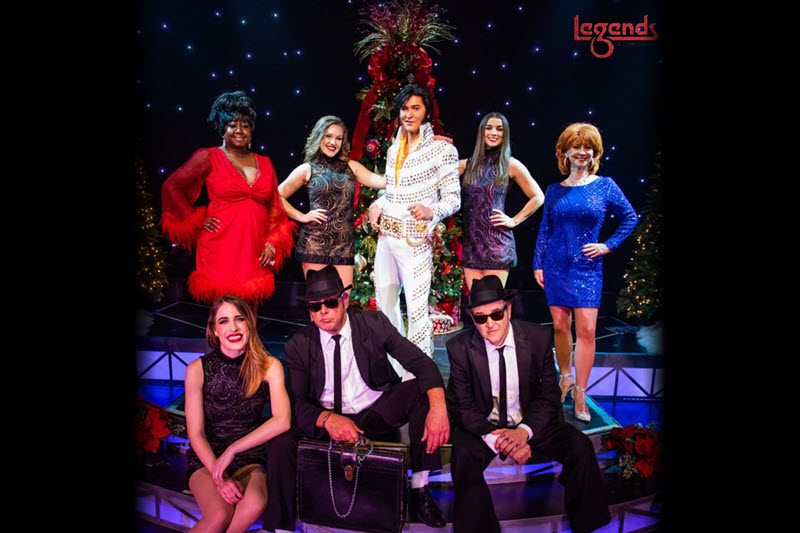 Legends in Concert
Celebrate the season with the Holiday Spectacular at Legends in Concert Theater. The annual Holiday show at Legends in Concert has become part of the season's celebrations. From the opening number – a dynamic blockbuster – to the big finale, the Legends cast brings music memories to life! This holiday season, Myrtle Beach's most awarded tribute show will feature music by Elvis, George Strait, Whitney Houston, and The Blues Brothers™.
Packed with all-star talent and powerhouse vocals from some of the world's top tribute artists, the Legends show entertains audiences of all ages. The tribute artists perform using their natural voices and are backed by a live band that rocks the house, with back-up singers and dancers who bring the performances to life.
Performances Nov. 2 – Dec. 31
Legends in Concert
Broadway at the Beach
4750 Hwy 17 S.
North Myrtle Beach, SC
29582
1-843-238-7827
---
Alabama Theatre
The South's Grandest Christmas Show is 2022's #1 Christmas Show in Myrtle Beach and North Myrtle Beach. This November and December make a new tradition by celebrating the holidays in Myrtle Beach, South Carolina with the Alabama Theatre's award winning production. You'll experience an incredible combination of talent, scenery and special effects in our spectacular new holiday musical that is sure to put you in the season's spirit.
Alabama Theatre's merriest Christmas Show on the Grand Strand will instill the true meaning of Christmas in your family with its combination of traditional classics and contemporary holiday favorites. This festive Holiday Show is a southern family tradition on the Grand Strand that invites people from all over this great country of ours to celebrate the holidays together.
Also featured in this year's show will be our new Comedic Juggler Slim Chance who will put a new twist on the Christmas season. So, if you want to celebrate Christmas with an evening filled with song, dance and laughter, the Alabama Theatre is the place you want to be with your family and friends.
Purchase your tickets today by calling 1-800-342-2262 or book them online. Don't miss the jolliest Myrtle Beach Show this holiday season
Performances Nov. 1 – Dec. 31
Alabama Theatre
Barefoot Landing
4750 Hwy 17 S.
North Myrtle Beach, SC
29582
1-800-342-2262
---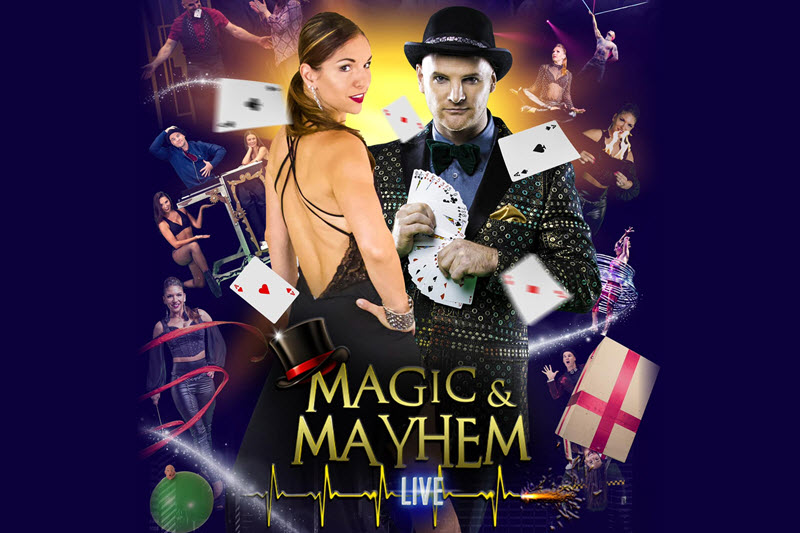 Magic And Mayhem
Featuring the World Famous 'Dizzy' Lead Magician for 'The Illusionists – Live From Broadway'. Prepare yourself to witness the impossible and join the countless audiences who have been enraptured by this performance of side-splitting comedy and mind-boggling mysticism.
Watch Dizzy and Janna bend realities easily as they wield mischievous charm with sleight of hand, mentalism and audacious audience interactions. Magic and Mayhem is a family friendly Christmas show perfect for the whole family.
Performances Nov. 17 – Jan.1
Broadway Theater
1195 Celebrity Circle
Myrtle Beach, SC 29577
1-843-626-7645
---

Hot Jersey Nights
Come see the Grand Strand's newest Holiday show, Hot Jersey Nights Christmas Special! Experience the very best and most loved Frankie Valli and the Four Seasons Songs of all time with a mixture of all the holiday classics you could ever wish for. Take a walk down memory lane with four of the very best male vocalists in America as they sing all their hit songs including, Walk Like a Man, Candy Girl, Jingle Bells, White Christmas, Big Girls Don't Cry, My Eyes Adored You and of course 'Oh What a Night', which is exactly what you will have!
Performances Nov. 1 – Dec. 31
Broadway Theater
1195 Celebrity Circle
Myrtle Beach, SC 29577
1-843-626-7645
---
ACTIVATE YOUR ENTRY
Enter Your Activation Code
"*" indicates required fields