The Latest From Carolina Traveler
Your clicks make a difference. When you buy something from the links on our site, we may earn an affiliate commission at no additional cost to you.


Welcome to the Carolina Traveler weekly newsletter! For the week of September 6, we're taking you on a journey through the Carolinas like never before. Discover the most enchanting performance venues, enjoy the magic of the Carolina Renaissance Festival with free tickets, and embark on unforgettable fall day trips, including delightful dessert sampling in Greenville and a riveting football Hall of Fame exhibit in Myrtle Beach. Learn how to join our Carolina Traveler Facebook group and become a subscriber to the Carolina Traveler magazine!
Find Tickets to the Hottest Shows and Events
From electrifying concerts that will have you dancing all night to roaring crowds of sports fans, we've got your ticket to the hottest events and shows across the Carolinas. Whether you're looking for your next unforgettable night out or to cheer on your favorite team, we've got your ticket!
Pick City: Rockingham County, NC
Rockingham County is home to a cache of hidden Carolina gems and exciting things to do – eccentric festivals, flavor-packed cuisine, and a web of secret trails. The Dan River meanders through small towns, rolling hills, and iconic peaks just south of the Virginia border – the ideal setting for a few days of leaf-peeping adventure.
How to Score Free Tickets to the Renaissance Festival
Carolina Traveler VIPS — Check your email for instructions on claiming your tickets! While supplies last, we're giving VIPs up to four tickets the the festival (2 adult and 2 child tickets) valued at $104! If you don't see the email in your inbox, check your spam folder or promotions tab. Want to get in on all the fun stuff as a Carolina Traveler VIP? It's easy, here's what you do:
Click subscribe
Select the VIP package
Check out
Get tickets to fun stuff!
Featured Carolina Day Trips
Looking for a unique day trip this September? Check out some of these top-rated guided tours and activities throughout NC and SC.
Dessert Sampling in Greenville, SC
Indulge your sugar cravings while discovering downtown Greenville on the "Just Desserts" excursion. Join your guide and fellow food enthusiasts for a delightful amble through the city's most renowned cafes and dessert emporiums. Engage with talented pastry chefs and savor their delectable offerings, spanning from luscious cakes and cookies to scrumptious crepes and beyond. Between these delectable stops, balance out your calorie intake with leisurely walks in Falls Park and the downtown precinct. Learn more/book tickets.
Football Fun and Fandom in Myrtle Beach, SC
Delve into the rich history of professional football by experiencing the Gridiron Glory Hall of Fame Exhibit in Myrtle Beach. Serving as a satellite exhibit linked to the primary Hall of Fame located in Canton, Ohio, it boasts an impressive collection of over 200 artifacts and memorabilia dating back to the mid-1800s. Explore the captivating narrative of American football, featuring uniforms, trophies, rings, helmets, draft cards, and other captivating items. Learn more/book tickets.
History, Haunts, and Breweries in Wilmington, NC
Unite history, exploration, and craft beer on a half-day guided e-bike tour in Wilmington. With the ease of an electric bike, cover more ground with less exertion. Accompanied by your guide, journey to several historic landmarks in downtown, including Thalian Hall Center, Wilmington Oakdale Cemetery, and Bellamy Mansion, punctuated by refreshing visits to three local breweries. Discover Wilmington via electric bike—an ideal adventure for residents, tourists, and craft beer enthusiasts alike. Learn more/book tickets.
Romantic and Carriage Ride in Blowing Rock, NC
Savor a serene journey through Blowing Rock's Moses H. Cone Park aboard a horse-drawn carriage. Secure your reservation in advance and rendezvous with your coachman at the park. Settle into the cozy carriage and unwind as you meander along scenic carriage trails, passing the historic manor and soaking in picturesque vistas of the Blue Ridge Parkway. Whether it's a romantic outing for two or a small group adventure, pre-booking ensures a seamless experience without the hassle of waiting, while a private carriage guarantees an intimate mountain-view encounter. Learn more/book tickets.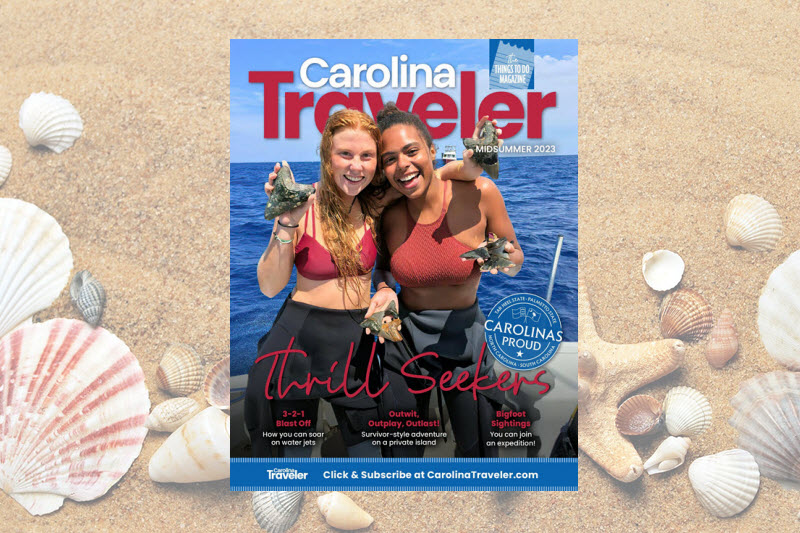 The Thrill Seekers Issue – A Midsummer Favorite
Dive into heart-pounding, high-octane fun – right here in the Carolinas – with the 2023 Thrill Seekers issue! From spearfishing, to kiteboarding, to Survivor-style day trips with friends, you're bound to find an awesome new adventure in our annual selection of thrilling activities in the 2023 Thrill Seekers issue of Carolina Traveler Magazine.