The Carolina coast is dotted with stunning NC beach towns, but some of the most beautiful getaways are more remote than others. Utilizing the North Carolina Ferry system is the perfect way to reach these NC beach towns surrounded by the ocean. While visiting these destinations, you can climb historic lighthouses, see what life is like underwater, relax on the beach, or hit up delicious local restaurants. So get your NC ferry reservations now and read on to plan a perfect three-day weekend.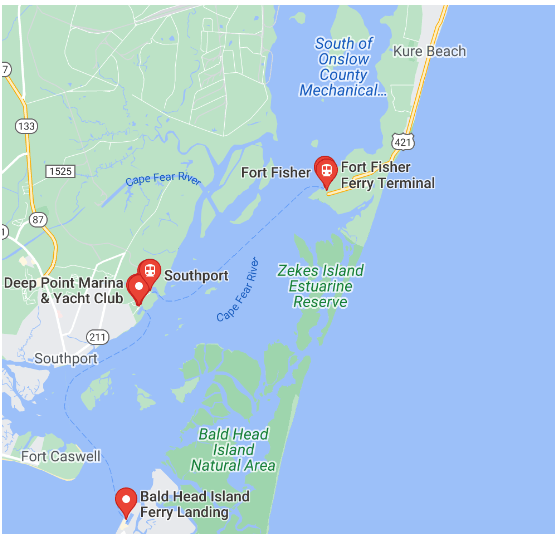 Day One: Kure Beach 
Just South of Carolina Beach, you'll find Kure Beach (pronounced CURE-ee by the locals). This NC beach town is full of historic sites, opportunities to spot wildlife, and natural beauty. You'll spend day one of your long weekend in Kure Beach. Of course, if you want to extend your stay in each location, there's plenty to do! 
While in Kure Beach we recommend checking out one or more of these popular attractions: 
The North Carolina Aquarium at Fort Fisher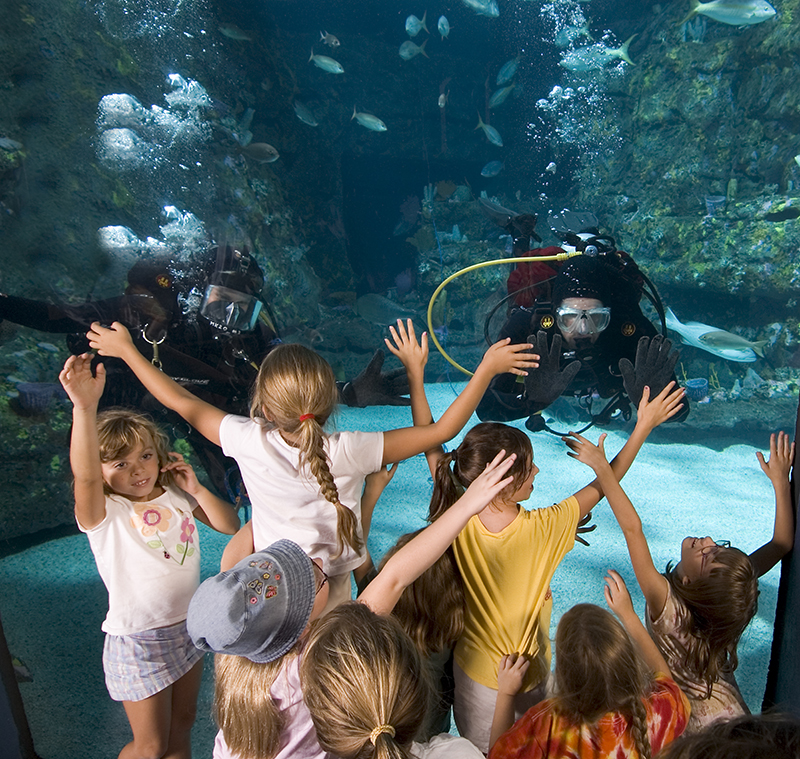 Named a top US aquarium by TripAdvisor for multiple years, The NC Aquarium at Fort Fisher offers a peek into life under the sea. Watch as sharks and eels glide through the waters around you. Spot the rare albino alligator, Luna. Giggle as otters play and dive in the water. 
The aquarium is open daily from 9:00 am – 5:00 pm. Admission for adults is $12.95; Children ages 3-12 is $10.95; Seniors ages 62 and older is $11.95; children under the age of two are free. 
The Kure Beach Pier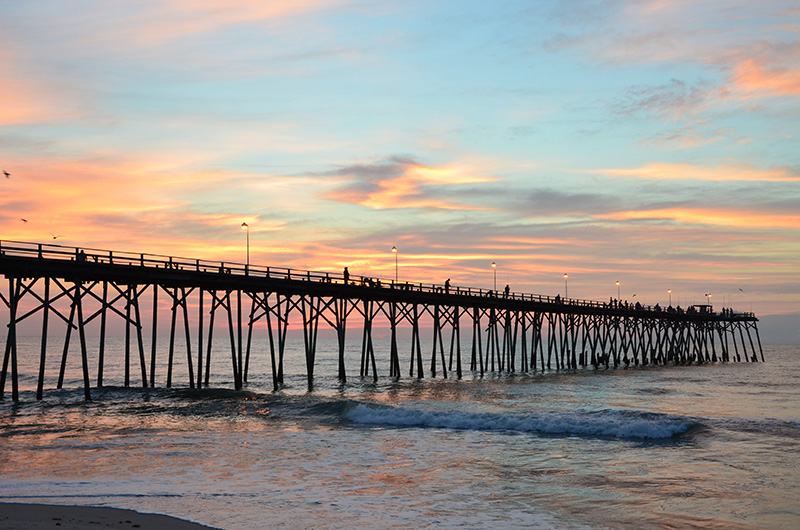 As one of the oldest piers on the Atlantic Coast, this is a quintessential beach trip must-visit on your journey through NC beach towns. The pier was originally built in 1923 but has been maintained and updated over the years. Stroll along the pier and watch the fishermen (or join in yourself!) for a relaxing morning. The pier features a concession stand, arcade, and souvenir shop. 
Find the pier at 100 Atlantic Ave., Kure Beach NC 28449. 
Kure Beach's Coquina Rock Formation
This NC beach town is full of picture-perfect backdrops but Kure Beach's coquina rock formation is the pinnacle of beauty. The naturally occurring formation is made up of small pieces of shell and coral that have been broken by waves and formed into a hardened substance when dried similar to a rock. Origins of this formation are estimated to range from 12,000 to 80,000 years ago. This is the only naturally occurring coastline Coquina Rock in North Carolina.  
The only way to see the coquina outcropping is during low tide. The mossy hard rocks can be found near the coast of Fort Fisher. It's a little off the beaten path. Find the parking area just past the Fort next to the Fort Fisher Monument on Battle Acre Road. Here, you'll find a hidden trailway entrance. Follow the trail to the rock formation. 
Explore the Outdoors At Kure Beach, One Of The Best NC Beach Towns

Kure Beach offers plenty of outdoor activity. Spend time kayaking, fishing, or relaxing on the beach. You can also rent a stand-up paddleboard or take a four-wheel drive excursion along the beach. Learn more about your options here. 
Enjoy the Local Restaurants 
Freddie's Restaurant is a hotspot that is typically crowded with families enjoying the chicken parmesan or the seafood alfredo. They're a family-owned business who serves Italian food in an Irish pub setting. Britt's is a short drive to Carolina Beach and is famous for their fresh-made donuts. Or, for a relaxed setting with typical diner food, try Kure Beach Diner. 
Where to Stay 
Moran Motel, known for its green and pink coloring, has been featured in many movies and TV series. The seasonal motel has been in operation since 1959 and features a pool with a small water slide for the kids. The Lighthouse Inn is an ocean-front option with nine luxury apartment suites. The renovated spot features a picture-perfect lighthouse as part of the building's structure. 
Day Two: Take the Ferry to Southport 
After exploring Kure Beach, it's time to take advantage of the North Carolina ferry system. You'll catch the Fort Fisher / Southport Ferry at the tip of Fort Fisher (2422 S Fort Fisher Blvd Kure Beach, NC 28449).
The drive-on ferry will allow you to board from the comfort of your own car. Once you get the "all clear" after taking off, you're able to get out of your vehicle and walk around the ferry. The short 30-minute ride has beautiful views and is an enjoyable journey. Details on how to make NC ferry reservations can be found further down in this article. 
Southport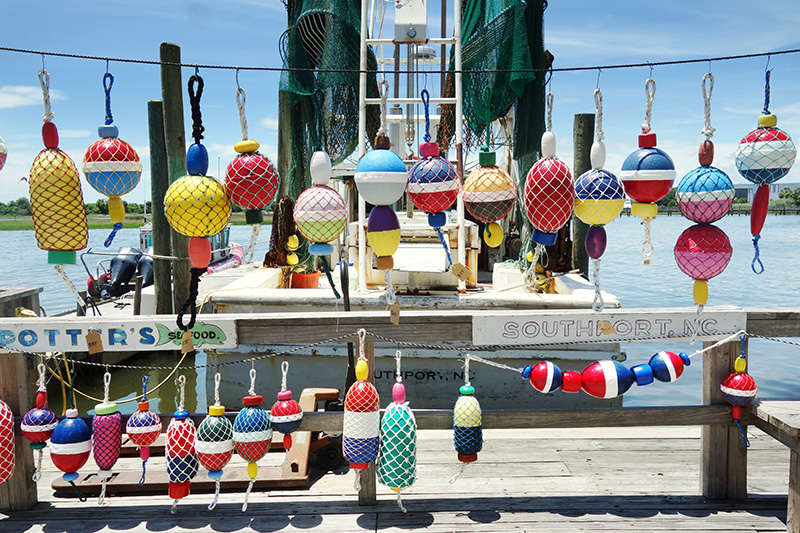 Next on our list of the best NC beach towns is Southport — a quaint town full of history with a beautiful waterfront. Check out our recommendations for what to do in Southport here. 
After getting a quick Southport fix, you'll board another ferry. This time you're taking the Bald Head Island passenger ferry. In a quick 20-minute journey you'll be transported to yet another one of many picturesque NC beach towns. 
This ferry trip can be booked directly through Bald Head Island Transportation instead of the NCDOT. Round-trip tickets are $12 for children ages 3-12 and $23 for adults.  
Day Three: Bald Head Island 
Rounding out your trip on Bald Head Island means you'll end the weekend in a beautiful, serene setting. The remote island gives you a chance to leave the stress of everyday life behind. The population of the village is a mere 230. There are few vehicles on Bald Head. Instead, most residents use golf carts and visitors hop on the tram or walk. 
Though it's a small destination, there's still plenty to see and do. We recommend these attractions at one of the most remote NC beach towns: 
Old Baldy Lighthouse & The Smith Island Museum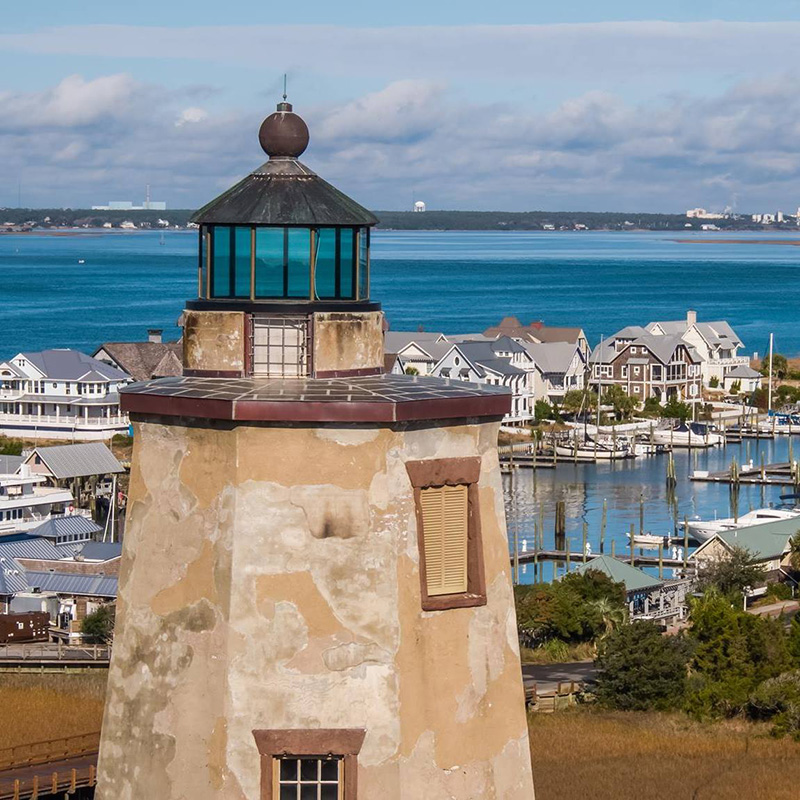 Climb 108 stairs to the top of Old Baldy, North Carolina's oldest standing lighthouse. The top of the lighthouse offers breathtaking views of the island and the Cape Fear River estuary. Climbs are self-guided and untimed, so you can spend as much time as you'd like taking in the views at the top. 
The Old Baldy Lighthouse grounds also includes the Smith Island Museum, located inside the old keepers cottage.  Artifacts inside the museum rotate regularly and share the historical significance of the island. 
Tickets cover admission for both the lighthouse and museum. Prices are $8 for adults, $5 for children ages 3-12, and free for those under the age of three. 
Bald Head Island Conservancy 
The Bald Head Island Conservancy is a non-profit organization dedicated to the conservation, preservation, and education of the Smith Island Complex. 
The Conservancy offers daily activities for all ages. You might catch a shark dissection, try your hand at crabbing, or take a stroll with the sea turtles. Family activity schedules can be found here.
The conservancy is located at the Eastern tip of Bald Head at 700 Federal Rd.  
Bald Head Island Hiking Trails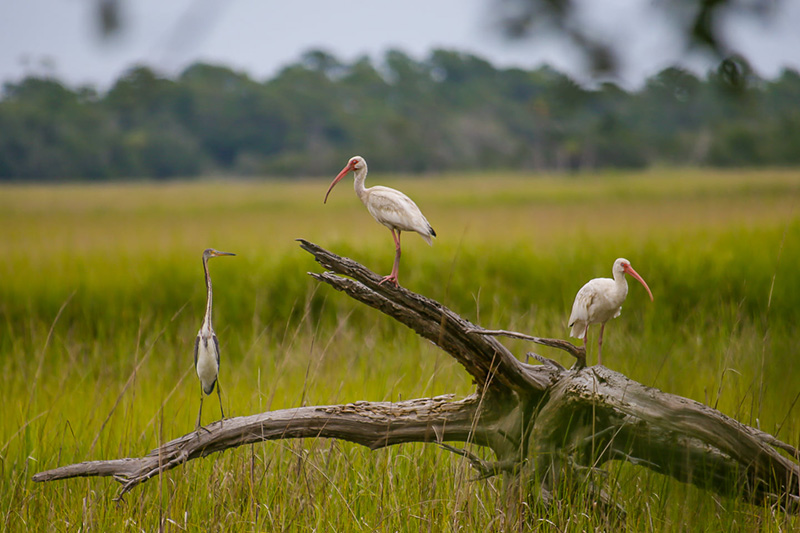 The island offers plenty of hiking trails if you're looking to get some exercise with a side of beautiful views. There are both woodland and wetland hiking options available. 
The Bald Head Island Maritime Forest Preserve is a 191-acre piece of the Smith Island Complex. Try the Bald Head Island Forest Preserve Loop Trail, a 3-mile loop through dense forestland. 
Another popular trail is the Kent Mitchell Nature Trail. Here, there is a short paved trail or nature trails that take you over boardwalks and through woods. Plan your hike here. 
Where to Eat 
Popular Delphina Cantina brings Latin flair to the island with dishes such as The Battleship Burrito or the Ranchero Quesadilla. Jules Salty Grub & Island Hub offers salads, pastas, steaks, and sandwiches. The views at Jules' are incredible and you can watch boats come and go from the harbor. 
Where to Stay 
The Inn at Bald Head Island is a quaint 10-room inn located within a renovated cottage. The elegant inn includes rooms with views of Old Baldy. Or, The Winds Resort is an oceanfront option with three pools, tropical gardens, and a tiki bar. 
How to Make Ferry Reservations To Visit NC Beach Towns
Reservations are recommended when planning certain ferry trips in North Carolina. Five of the seven ferry routes offered by NCDOT are on a first-come, first-serve basis. 
Reservations for some of the most popular routes to NC beach towns can be booked up to 90 days in advance. Tickets are available at the ticket booth of each ferry terminal. To book tickets in advance, you can call 1-800-BY-FERRY or book online. 
Note that you must claim your reservation at least 30 minutes prior to departure time or your space will not be held. Ticket prices start at just $1 for pedestrians along certain routes. 
For more weekend getaways utilizing the ferry system, check out this weekend ferry excursion to Beaufort, Ocracoke, and Swan Quarter.