Embarking on a Cherokee day trip is to embark upon a sacred pilgrimage, a profound connection to a rich and vibrant heritage that has endured the test of time. It is a journey that transcends mere recreation, for it offers a profound and humbling glimpse into the ancient traditions, wisdom, and spirituality of the Cherokee people.
Steeped in reverence, this immersive experience invites all who partake to embrace the living tapestry of Cherokee culture, to walk the hallowed paths of their ancestors, and to bear witness to the enduring legacy that has shaped this land. From captivating storytelling to captivating performances, from immersive museums to tranquil nature trails, a Cherokee day trip embodies the celebration of resilience, the preservation of traditions, and the profound beauty of a heritage that dances gracefully between the past and the present.
Prepare to be enraptured, enlightened, and enchanted as you embark on this sacred voyage, where joy, understanding, and a deep sense of respect intertwine in harmonious communion with the spirits of the land.
What Is the Cherokee Cultural District?
Western North Carolina's Cherokee Cultural District is an outstanding kid-friendly day trip destination. Since the mid-20th century, this beloved home to the Cherokee has welcomed families and groups of visitors coming to learn of the proud history of these people.
In the heart of the Cherokee Indian Reservation on the banks of the scenic Oconoluftee River, your kids will explore several venues devoted to the preservation of Cherokee history.
Oconoluftee Indian Village
Cherokee history unfolds daily at the Oconoluftee Indian Village, a living history site that portrays 18th century Cherokee life. The recreated Cherokee Village demonstrates that life during the 1750s was a time of rapid change. Guided tours lead through craft demonstrations explaining the unique Cherokee techniques. In the living history area students meet important Cherokee historical figures. Special shows include a demonstration of Cherokee dancing.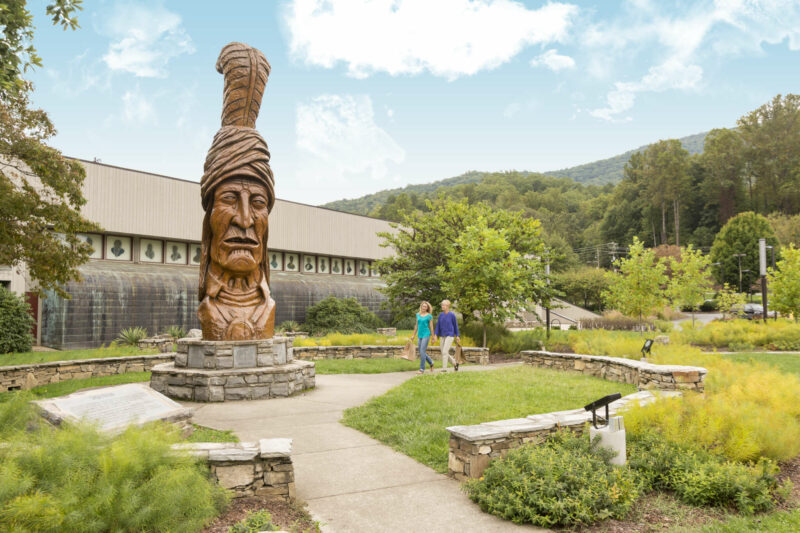 Museum of the Cherokee Indian
Your kids will be amazed to see artifacts dating back centuries as well as written and oral histories and interactive displays exploring Cherokee history. The Story of the Cherokees exhibit uses computer graphics and special effects, life-size historical figures, artwork and original artifacts to explain how the Cherokee came to the Appalachian region.
Qualla Arts and Crafts Mutual
Kids will be fascinated by (and you'll appreciate) the centuries-old techniques and skills employed by Master Cherokee artists and craftsmen. Enjoy authentic handmade Cherokee beadwork, masks, baskets, pottery, hand carvings of wood or stone and more.
Unto These Hills
An ever-popular outdoor drama! Share a better understanding of the hardships endured by Native Americans and a new appreciation for their culture and courage at the outdoor drama Unto These Hills. More than six million people have witnessed the tragic but triumphant saga of the Cherokee Indian portrayed in this show. It's entertaining for all ages, but like anything that requires sitting still and being quiet, your toddlers-to-first graders may get restless. Come prepared for cool mountain air. 
Want To Go?
Cherokee is a short drive west of Asheville. For more information or to schedule your Cherokee field trip log on to www.visitcherokeenc.com.